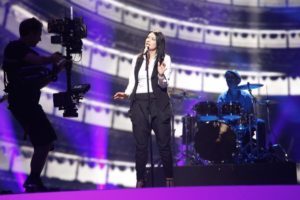 Next on stage was Kaliopi and her power rock ballad Crno I Belo representing FYR Macedonia. Could this song establish a new personal best for the country in its attempt to reach the final? Although she occupies the dreaded second spot in the performance lineup, there should not be a problem for her.
A very confident Kaliopi, who appeared this morning in the press centre two hours before her rehearsal, delivered a powerful live performance vocally as well as visually.
She began her performance very gently and low light which works great with the feel of the entry. The pace of the song picks up after the first verse with a blast of light and from then the stage was lighted in black and white flashing lights according to the title of the song. On the background we could see the interior of an opera house.
She was flanked by three male and two female musicians: two electric guitar players, two violin players and a drummer whose role for the first minute of the song was stand still. Their position did not change throughout the performance. She kept herself all the time on center stage and the musicians were around and behind her.
They were all dressed in casual clothes and Kaliopi wore a white shirt, black vest and black trousers.
She gave a strong performance as expected and her rendition is masterful. She is clearly in control of the pace and range of the song and the raspy sound of her voice fit well with the song.
Below you can see a 3D video of Kaliopi's first rehearsal.