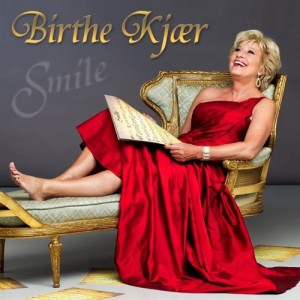 Despite celebrating her 40 years anniversary on the music scene a couple of years ago Birthe Kjær, who represented Denmark at the 1989 Eurovision Song Contest, is still going strong. On a new album released today she fulfil a dream of hers. The album, that is entirely in English, includes classics such as My Way and Smile.
For Birthe Kjær it has been a dream coming true recording the 12 songs included on her new album called Smile. It is well known classics recorded in a swing style with bigband orchestra and nice sound, all of them in English.
It is quite different from her usual light pop, but Birthe says: "It has been a huge challenge to get these big classic "under my skin" as they need to be interpreted in a different way than I am use to. It has required a lot of repeats, but it has been quite natural for me to sing this way. I already tasted a bit of the genre on my latest Christmas album, Let It Snow, where there were several songs in English and in this swing style. The audience recieved that one quite well, which gave me the courage to take the full step and follow my dream about making a true swing album".
Birthe Kjær came third at the Eurovision Song Contest in 1989 with Vi Maler Byen Rød (We'll paint the town red – a Danish expression for partying, ED.), a song that today is considered a Eurovision classics among fans.  
Tracklist:
01 – Smile
02 – Such a Night
03 – You're Nobody Till Somebody Loves You
04 – As Time Goes by
05 – For Once in My Life
06 – Maybe This Time
07 – La Vie en Rose
08 – On a Slowboat to China
09 – When I Fall in Love
10 – Orange Colored Sky
11 – You Don't Have to Say You Love Me
12 – My Way