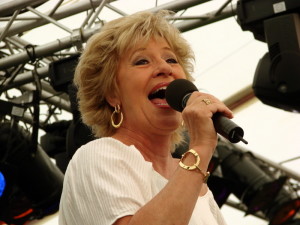 Denmark's largest market opened today with Birthe Kjær, who secured Denmark a third place at the 1989 Eurovision Song Contest, as guest. We are proud to present you videos from her performance today as well as a large selection of images.
Hjallerup Marked is an annual event, which takes place in North Jutland over the weekend. Today the 2008 edition was kicked off with a performance of Birthe Kjær who is well known for her 5 participation's in Danish finals, the Dansk Melodi Grand Prix. She won once, in 1989 and brought home a third place for Denmark at the Eurovision Song Contest with the song Vi Maler Byen Rød. Despite the fact that she turns 60 later this year and suffered from a serious heart attack a few years ago Birthe Kjær is still active with a solid fan base. She is one of few who can entertain the whole family and therefore elderly as well as children are to be seen at her concerts.
At her performance today she showed that she is not afraid to change the lyrics for her songs. In a fabulous medley she told the story of her own career by changing the lyrics to several of her big hits. Quite appropriate then Jeg Går Aldrig til Bal Uden Trusser (I will never go to a ball without panties) ended up being changed to Jeg Gik Aldrig Til Bal Med En Russer (I never went to a ball with a Russian).
We previously had three small videos from the concert, but by request from Birthe Kjær's legal adviser we have removed those. We apologise for any inconvenience those videos might have caused Birthe Kjær.