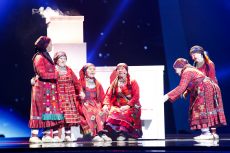 Danish broadcaster, DR, has today published the Danish jury result, which shows a clear difference between the jury and the TV viewers. The jury didn't like Russia and Iceland, but prefered countries like Moldova and Israel. Both parts do agree on Sweden and Germany though. 
The Danish jury consisted of Birthe Kjær, who represented Denmark at the 1989 Eurovision Song Contest coming third with the song Vi Maler Byen Rød, Aya who participated in this year's Dansk Melodi Grand Prix singing Best Thing I Got, Bryan Rice, singer who came second in the Danish final in 2012 with Breathing, producer Kenneth Bager and drummer in rock band DAD, Laust Sonne. 
In the first semi-final, where Denmark participated and voted in, the jury awarded 12 points for Moldova and 10 for Israell. None of them were however particular popular among the TV viewers as Moldova's combined points ended up being 6 and in Israel's case only 3. The TV viewers instead gave their points to Russia and Island, the last country got no points from the jury where Russia only got 3 points.
In the final the TV viewers and the jury did agree on Sweden and Germany getting the top points from Denmark and suddenly Russia did get 6 points from the jury, but they also gave points to Cyprus, Greece and Spain. All three countries got nothing from Denmark in the combinded result, which makes it clear that they didn't get anything from the TV viewers. It is however due to the TV viewers that Iceland and Ireland got points from Denmark as the jury didn't have none of them in their top 10.
The Danish jury and combined result for the final:
| | | |
| --- | --- | --- |
| Points  | Jury  | Combined jury and televoting  |
| 12 | Sweden  | Sweden  |
| 10  | Germany  | Germany  |
| 8  | Moldova  | Russia  |
| 7  | Albania  | Moldova  |
| 6  | Russia  | Iceland |
| 5  | Cyprus  | Albania  |
| 4  | Italy  | Ireland  |
| 3  | Spain  | Italy  |
| 2 | Romania  | Turkey  |
| 1  | Greece  | Romania  |
The Danish jury and combined result for the first semi-final: 
| | | |
| --- | --- | --- |
| Points  | Jury   | Combined jury and televoting  |
| 12  | Moldova  | Russia  |
| 10  | Israel  | Iceland  |
| 8  | Albania  | Finland  |
| 7  | Greece  | Albania  |
| 6  | Hungary  | Moldova  |
| 5  | Finland  | Hungary  |
| 4  | Cyprus  | Greece  |
| 3  | Russia  | Israel  |
| 2  | Austria  | Ireland  |
| 1  | Ireland  | Romania  |