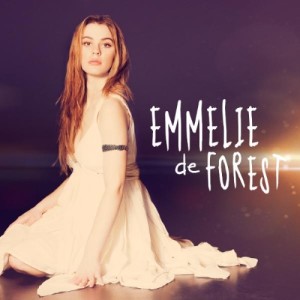 Today was a big day for Danish Eurovision participant Emmelie de Forest. She was rehearsing for the first time on the stage in Malmö, from where she needs to try to live up to the expectations as the top favourite to win. Her debut album was also released today.
She took the entire country by storm. In a very strong national final it was hard to predict just which three songs would qualify to the super final, but once 19 year old Emmelie de Forest was there and performed her song again, no one was in doubt about the outcome. Barefeeted with her long hair hanging lose, wearing a long light fairytale dress that got cariried by the wind, she looked extremely natural – despite just having the told the story about her being the great granddaugther of Queen Victoria. The song was catchy, well composed and a bit mysterious. She delivered the full package and the Danes was not in doubt; here they had the song that would do Denmark proud at the Eurovision Song Contest.
Emmelie and the song Only Teardrops went straight into the hearts of many foreign Eurovision fans as well, and it didn't take long before the bookmakers also noticed that here there was something special going on. Denmark quite quickly became the top favourite to win the contest in Malmö – and have remained that ever since. 
Today the first eight acts from the first semi-final rehearsed on the stage in Malmö arena for the first time. As Denmark have gotten starting position number five, this included Emmelie.
For the Danish fans Emmelie's debut album, titled after her Eurovision Song Contest entry, is available to purchase today. The album contains of 11 songs, one of them being a symphonic version of Only Teardrops. Emmelie herself has also helped writing some of the songs in collaboration with well known Danish songwriters, of course including Lise Cabble, Julia Fabrin and Thomas Stengaard, the team behind Only Teardrops.
Lise Cabble has twice before represented Denmark as songwriter and both times ended 5th: In 1995 where Aud Wilken sang her Fra Mols Til Skagen and again in 2010 where it was A Friend In London who had been given New Tomorrow.
The album will first be released in Denmark, but an international release is planned for shortly after the Eurovision Song Contest. 
Track list:
Teardrops Overture
Hunter & Prey
Change
Only Teardrops
What Are You Waiting For
Haunted Heart 
Force Of Nature
Beat The Speed Of Sound
Soldier Of Love
Running In My Sleep
Let It Fall
Only Teardrops (Symphonic Version)