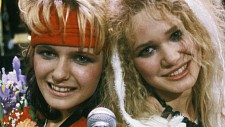 Three more acts are now known, augmenting the line up for next year's Melodi Grand Prix, including a big name in Norwegian showbusiness and a fond reunion with a former Norwegian entrant.
United are the next name out of the hat, and conists of a trio – Norway's answer to Eminem, the rapper Sirius, promising pop artist Haji and none other than former Dollie De Luxe member Benedikte Adrian. She's back after almost 30 years and looking fresher than ever, clearly excited to be involved in this new project. She represented Norway back in 1984 with Lenge Leve Livet and both memorable styling and choreography! Her partner Sirius has had a string of hit singles in Norway following his victory in Norway's Got Talent, specialising in the rap genre. Haji is a relative newcomer to the pop scene here in
Norway, but has already managed to feature in a documentary as well release his debut album in 2008 and 2009 respectively. Their song is called Little Bobbi, and is a pan Scandinavian project, written and composed by both a Swede, a Norwegian and a Dane. The song is described as a potpurri of sounds, with middle eastern pop meeting dubstep and hip hop!
The next act to be confirmed is the girl group Cocktail Slippers, who describe themselves as bona fide rock chicks, consisting of Hope (vocals), Rocket Queen (guitar) Aurora de Morales (bass), Zumba (guitar), Bella Donna (drums) and Piper (keyboards) and morever describe their act as "a dirty circus gone mad"! They were inspired to participate by last year's entrants The Lucky Bullets. The girl group have previously toured in a number of countries, amongst others the Netherlands, Belgium and Spain. Their entry Keeps on Dancing is a rock number singing the virtues of a certain femme fatale. The girls have already managed to rack up three studio album releases to their name.
The latest name to join the Melodi Grand Prix is Iranian born Tooji Kestkar who brings with him exotic eastern rhythms to the stage next year. The promising 24 year old got his big break completely by chance, after starting out his career as a model. He had the chance to audition for MTV and delivered a faultless performance, which eventually landed him a regular programme on the channel. His singing career also came about in an equally coincidental manner, when during a fashion show, he had to step in for a performer who'd taken ill at the last minute. His entry Stay is described as a catchy, slightly mystical number with a distinct oriental twist. The young artist has very clear vision as to what he wants to do with his career, namely to help others less forunate.