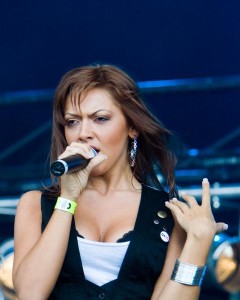 Last year's Turkish representative, Belgian born Hadise, has been named by the Belgian media for the Eurovision Song Contest 2010. Hadise came 4th with her song Düm Tek Tek at the Eurovision Song Contest 2009.
It is commonly known that official EBU member channels from Belgium, VRT and RTBF, have been asking Hadise to represent the country of her birth at the Eurovision Song Contest for the last 3 years. Last year, it is thought that the Turkish channel TRT had won the Hadise battle against Belgian TV. However, this year, the Belgian media have put Hadise under pressure to represent her home grown country at the Eurovision Song Contest in Oslo next year.
RTBF managers have revived this attempt to bring her back to the contest in 2010, and they also admitted that they were waiting for a positive reaction from her. Hadise's office manager in Turkey, Berna Nuri Süer, commented on Belgian tv's latest attempt by saying "We are discussing this option, we will announce our latest decision in a short time." 
You will be introduced by the EuroVisionary team with the latest events of Hadise and Belgian RTBF's relationship.
Links