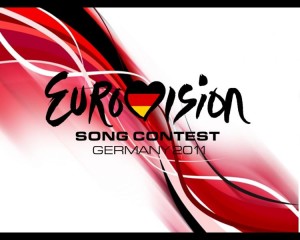 2010 was a year when we experienced Norwegian hospitality as the host nation welcomed us for 55th Eurovision Song Contest in Oslo. Preperations are now underway for the 56th contest next year in Germany in Slovenia, Croatia, Bosnia & Herzegovina, FYR Macedonia, Serbia and Montenegro. 
The countries Slovenia, Croatia, Bosnia & Herzegovina, Montenegro, Serbia, and FYR Macedonia had previously participated as ex Yugoslavia, choosing different artists and singing in their regional language. Yugoslavia participated in the Eurovision Song Contest 27 times and won on one occasion in 1989, with the 1990 contest being held in Vatroslav Lisinski concert hall in Zagreb, Croatia. Today all of them participate independently but still support each other.
FYR Macedonia was represented this year on the Eurovision Song Contest in Oslo by Gjoko Taneski and the song Jas Ma Imam Silata. The act didn't manage to qualify for the final which was their worst position – 15th at the Semi-final in Oslo. Next year they will work harder, already planning to focus on singers and composers who are successful and who can guarantee a good show.
The public broadcaster of FYR Macedonia, MKRTV (Makedonska Radiotelevizija), has extended the submissions deadline to January 10th, 2011. The date for the national final of FYR Macedonia, known as Skopjefest 2011, will take place in February. There are rumors just one show will be organized. Applications can be sent to the national broadcaster until 10th of January. Participation in Skopje 2011 is restricted to national citizens of Macedonia such as in previous years and in the Macedonian language.
Montenegro withdrew from the 2010 Contest due to financial reasons.
RTCG (Radio Televizija Crne Gore) officially applied for this year's contest, but it is still unknown whether or not Montenegro will participate. The broadcaster feels that the potential representative should be able to find sponsors to fund their participation themselves. A final decision will be announced before 21 December 2010.
Serbia will participate in the Eurovision Song Contest 2011 in Düsseldorf, Germany and will select their entry through a televised national final, organised by Serbian broadcaster Radio-televizija Srbije (RTS) Last year in Oslo, Milan Stankovic took 13th place in the final with a song composed by the popular Serbian artist Goran Bregovic, Ovo je Balkan. There were  rumours last year that Serbia wouldn't participate, but they were just in connection with national selection, Beovizija. As their budget was low they organised a TV show in one of the biggest studios of RTS, named "3 pa 1 za Oslo". The Serbian Eurovision PR Manager, Duška Vučinić-Lučić said that RTS will use the same selection process as in 2010. A well-known composer will write different songs to be performed by various artists. That kind of show is cheaper than organising a Beovizija event, even with many more visitors and more participants. Televoting will then decide which of the artists will be the Serbian representive for Germany 2011. The name of the show is expected to be similar to last year's.
Bosnia and Herzegovina will participate in the Eurovision Song Contest 2011 in Düsseldorf, and will select their entry through an internal selection, organised by the Bosnian broadcaster Radiotelevizija Bosne i Hercegovine (BHRT). Last year the broadcaster and delegation team picked Vukasin Brajic as a popular and experienced singer to represent his country with the song Thunder and Lighting. The Bosnian broadcaster announced at a special show that Dino Merlin (Edin Dervišhalidović), who has already represented Bosnia in the 1999 contest, will have other chance and will sing in Germany. Dejan Kukric, their head of delegation said that they have two beautiful songs, but they dont know which will be the better choice for Eurovision. Fans and the audience will be given the task of deciding the result. There will be a show where Dino Merlin will sing these two songs and public televoting will pick the better one. Dino Merlin has published 5 band albums, 7 solo albums, 7 compilations and 2 DVDs.
Croatia will also participate this year and will select their entry through the national selection Dora 2011 – Let's go to Eurovision!, organised by Croatian broadcaster Hrvatska Radiotelevizija (HRT) The 19th Dora in 2011 is set to move from its traditional home in Opatija, a small town on the Adriatic Coast, to the capital Zagreb, because it will be cheaper, as the broadcaster and the crew are based here. Participants must be Croatian citizens aged 16 years and upwards. HRT say that the contest is open to unknown acts as well as big names from the Croatian showbiz scene, because an event such as Eurovision, deserves unique songs such as last year's Lako je sve, by girl band Feminnem. 
Dora 2011 will consist of seven programmes, in which entrants will perform their songs live. In the first and second heats twelve acts will participate and six will be eliminated according to a public vote. In the third heat, the twelve participants with the most votes from the first two programmes will compete. In the fourth heat six acts will compete, of which the two with the least votes will be eliminated. In both the fifth and sixth heats, one act will be eliminated. Only viewers will be able to vote in the first six shows. The first show will take place on 22nd January and the grand final on 5th March. In the final show two acts will compete, singing three songs put forward by HRT by famous Croatian songwriters. The result will decided by a 50/50 combination of a chosen jury and televote.
Slovenia will participate in the 2011 sontest and will select their entry through a televised national final, organised by the Slovenian broadcaster Radiotelevizija Slovenija (RTVSLO). The show will be held on 27 February 2011 and will be called EMA 2011. Two rounds of voting will most probably be held, with the top two-three songs, selected by 50% televoting and 50% from the jury, proceeding to a super final, where the final winner will be chosen through 100% televoting. Last year in Oslo they took 16th place with the group Ansambel Žlindra and Kalamari and song Narodnozabavni rock.