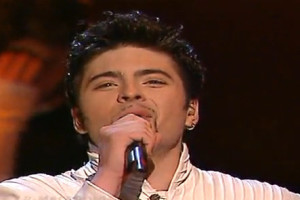 Yesterday marked five years of the tragic car accident that took the life of Tose Proeski. To celebrate his musical career, a number of Balkan artists gathered to re-record Igra Bez Granica, one of the greatest hits of the singer who represented Macedonia at the 2004 Eurovision Song Contest.
Macedonian pop star Tose Proeski passed away in 2007 at the age of 26 after suffering a horrible car crash in Croatia when his car collided with a truck near the town of Nova Gradiska.
Last week, for the fourth year in a row, the Skopje City Square became crowded with the young and old. Hundreds of fans of the legendary Balkan pop star gathered to mark the anniversary of his last concert in Skopje and they remembered him lighting candles and watching some of his videos. The title of the event was inspired by something he told at his last concert when he looked out at the lights from fans' cell phones and he said "this cannot be described, may the star sky never turn off".
To pay tribute to the most beloved teen pop idol in Macedonia, many of his colleagues have decided to record a new version of one of his greatest hits. Among the participants are some artists, who have participated at the Macedonian national selection for the Eurovision Song Contest, Beovizija, such as Tanja Banjanin (2004), Bojan Marović (2005), Tijana Dapčević (2006) and Danijel Pavlović (2009). Ana Milenković, who was one of the backing vocals of Marija Šerifović at the 2007 Eurovision Song Contest, has also lent her voice for this tribute.
You can listen to them singing Igra Bez Granica in the video below: