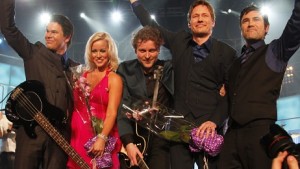 Norway just finished their second heat in the search for who can bring last year's host country back to the top of the scoreboard in the Eurovision Song Contest. Babel Fish and Hanne Sørvaag were convincing enough to go directly to the national final, but for three the journey ended here. 
A week ago Helene Bøksle and Åste & Rikke became the first two participants to qualify for the final in Oslo on the 12th of February. Tonight it was decided that two of their opponents will be Hanne Sørvaag and Bable Fish as they, in tonight's heat from Florø, qualified directly for the final that will be held on the 12th of February. 
While three acts saw themselves being out of the competition Endre and Mimi Blix earned spots in the Second Chance round from where they will have one last chance of qualifying.
Florø that hosted tonight's heat has several times been awarded as the worlds finest travel destination due to its magnificent landscape, something they also spend a long time showing in the beginning of the show.  
The songs: (You can read more about the participants in our presentation)
Song number 1: Pernille & Marius – I'll Be Yours (Ovi/Johanna Demker/Bjørn Djüpström)
We start out with a pop song made as male-female duo. It might be written by Ovi, but it doesn't come across as nearly as catchy and rememberable as Playing With Fire. The song is nothing new and could as well have been taken out of any Scandinavian final 10 years ago. She is dressed in a short black dress and he in jeans and a t-shirt. They stay quite close to each other during the entire song and have a great connection. Four dancers/backing singers have joined them; three women and one man.
Song number 2: Babel Fish – Depend on Me (Halvor Holter/Tarjei Van Ravens) 
Here we have a song that starts out as a bit of a lullaby. It is a ballad added drums and guitars on the chorus. The stage is dark blue through the entire song. The band has two on guitars – one of them being the lead singer, one on drums and one on piano. The song is well performed with good use of lights to set the right mood for this song. Could absolutely be a winner. The song is written for a little child with a promise to always be there – who can stand for that?
Song number 3: Marika – Crazy For You (Gipsydance) (Marika)
Last year's Greek entry comes to mind when hearing the many OPA's thrown in to this one. It is clearly a bit gypsy inspired and her voice is… let's say… different, but it worked for Lena so who knows if Marika can pull of the same stunt. She is dressed in a cowboy outfit and is helped on stage by 5 people. Three dancers, one violin player and one on guitar. A combination of Rednex, George Alkaios and Lena, that is what you get here. 
Song number 4: Isabella – Sand (Isabella Leroy)
The song has quite dark tones and is built around an acoustic background. Isabella is dressed in a burgundy coloured t-shirt and trousers and is backed by a band on stage – refreshing that they have added a cello. The song is very much the style of Beth Hart, and perhaps a combination of Dutch Anouk and The Corrs.    
Song number 5: Endre – Oh, Oh (Puppy Love) (Samsaya Sharma/Jarl Aanestad)
We move on to a light, fresh pop song with a catchy chorus. Question is just if that is enough to make it stand out in this strong heat? He is dressed quite relaxed in jeans, a denim shirt and a leather jacket. He has four dancers on stage, two of each gender – often focused around school tables and a couple of chairs. He has a little similarity to a young Cliff Richard, who then for some reason have ended up in an American High School Musical!   
Song number 6: Hanne Sørvaag – You're Like A Melody (Hanne Sørvaag/Martin Hansen)
Yet another pop song comes out as three times Eurovision Song Contest songwriter Hanne Sørvaag hits the stage. She is dressed in a pink dress with a nice cleavage for the male viewers. In the beginning of the song she use a silver coloured acoustic guitar and has five choir singers with her on stage. Don't be surprised if you suddenly find yourself singing Alanis Morisette's You Learn over the chorus of this one!  
Song number 7: Mimi Blix – Allergic (Merethe La Verdi/Kjetil Schei)
We end with a dance song with plenty of electronic instruments and sound effects. Mimi is dressed in a short bright pink dress and is joined on stage by two choir singers and a three male dancers. Smoke is used on stage where other songs use pyrotechnics. A few of her moves and her gloves makes one think a bit about Michael Jackson. 
The show:
Last week Eurovision Song Contest winner Alexander Rybak was paired with Keep of Kalessin in order to make a new song together and for tonight NRK had paired the 2007 Norwegian participant Guri Schanke with national finalist Alexander Stenerud. This combination was not nearly as odd, which might be why it worked better.
Alexander starts sitting at the piano, but soon gets up and in the front of the stage. When Guri joins the stage he sits down again. Later they join each other. This could have been a good Eurovision entry if it wasn't for the fact that they use too many backing singers and dancers – and the fact that Norway threw it away last year when it was Alexander's solo entry! It is a good pop song of the kind no one else than an Scandinavian country can do. 
The result:
On a fourth position came Mimi Blix while Endre ended third. Both have however secured themselves a second chance to convince the population that they deserve to be in the final.
Hanne Sørvaag came second and qualified directly for the final together with tonight's winner that was….. Babel Fish.
The placement of the remaining three acts out of the competition was not made public.