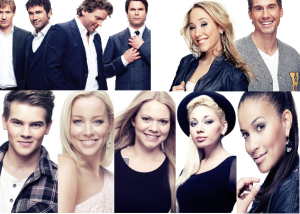 It's time for us to turn our attention to the MGP sequel this coming Saturday from Florø! Will the particpants manage to top the show brought to us last week? This batch of hopefuls also have widely different backgrounds and represent many different musical genres. Here is a little information on each partipating act to help you on your way!
Song number 1: Pernille & Marius – I'll Be Yours (Ovi/Johanna Demker/Bjørn Djüpström)
Both Pernille & Marius claim to have been obsessed by music for as long as they can remember, Marius his own material for his radio show back home in Årnes. He also won a karaoke championship while serving in the armed forces. He has also performed at over 50 weddings Pernille first performed Fly Me To The Moon on stage aged 11. One of the song's composers is familiar to most of us. Ovi performed and composed Romania's 3rd placed entry last year, Playing With Fire, as well as having participated twice previously in Melodi Grand Prix. 
Song number 2: Endre – Oh, Oh (Puppy Love) (Samsaya Sharma/Jarl Aanestad)
Young Endre (17), started his musical career when performing Oasis' Wonderwall in a talent competition at school. He was subsequently discovered by songwriter Samsaya on Youtube. Samsaya played the song she had in mind to Endre and he was bowled over immediately, considering this a once in a lifetime opportunity. He has previously tried his hand at X-Factor and one of his songs has featured in the Scandinavian version of Camp Rock 2. His favourite artists are Foo Fighters and Kings Of Leon, but his biggest musical inspiration is John Mayer. He plays guitar, bass and drums and is currently learning the piano. 
Song number 3: Marika – Crazy For You (Gipsydance) (Marika)
Marika is reportedly something of a child prodigy. Aged 3 she played Mozart in Vienna and by the time she was 6, she'd learnt to play the piano. By the time she'd turned 26, she had already released an album, performed in the prolific music festival By:Larm, taken part in the prgrammes Norway's Got Talent and Kjempesjansen. She says that her musical influences come from both Norway and Eastern Europe, and loves to use music in order to spread happiness as well as arouse strong emotions. 
Song number 4: Hanne Sørvaag – You're Like A Melody (Hanne Sørvaag/Martin Hansen)
Hanne has made quite a name for herself in recent years as a songwriter. She's responsible not only for the Norwegian and Georgian entries from last year, but also for Germany's Disappear with No Angels in 2008. Her interest in music was sparked she claims, after hearing her father play The Bangles' Manic Monday. She has previously released two albums as a solo artist and has enjoyed a number of major radio hits in Norway. She plays the guitar but composes her material on the piano. Hanne has also composed Carina Dahl's Guns & Boys from this year's MGP. 
Song number 5: Isabella – Sand (Isabella Leroy)
Isabella has been interested in music for as long as she can remember, beginning with nightly practice in her room with her guitar. She was encouraged by friends to try her hand at singing and took the plunge when she joined the band Neverland. She signed up for Idol in 2007, which gave her the chance to play to a wider audience. She is currently in the process of recording her first album. A very credible entry, placing her in the same category as say Beth Hart, Anouk. 
Song number 6: Mimi Blix – Allergic (Merethe La Verdi/Kjetil Schei)
Young Mimi (19 years old) makes her debut this year. Referred to by many as Norway's answer to Tyra Banks, Mimi has travelled the world and met some of the biggest names in showbiz. Although she is in demand as a photo model, one of her biggest passions is singing. Mimi was member of a girl band where she played the drums, but has never stood on a stage before. Her main inspiration is Tina Turner. Composer Merethe La Verdi also penned Maria's entry last year Make My Day. 
Song number 7: Babel Fish – Depend on Me (Halvor Holter/Tarjei Van Ravens)
Babel Fish need no introductions to our Norwegian readers, as they have existed as a popular band since the late 80's. With a number of major radio hits to their name, including the massive Mania from 1997, the band have built up quite a following. The band have toured with the likes of The Corrs, Barenaked Ladies and the Waterboys. 
Listen to the songs here!