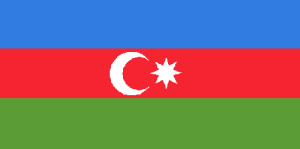 It's no secret that the victory of Ell & Nikki for Azerbaijan in this year's Eurovision Song Contest in Düsseldorf raised concerns both with individuals as well as numerous human rights organisations, describing the eurasian country as a dictatorship. The ambitious plans of Azerbaijan to host next year's contest are already incensing many.
With just under a year to go, preparations are already underway in Baku to smarten up the capital and to improve the infrastructure prior to the contest. Azeri authorities have been blasted for their seemingly cynical and ruthless approach to the aforementioned preparations.
The Institute for Peace and Democracy has recently only too tragically experienced first hand how the regime has apparently brought their work for promoting democracy in the region to an abrupt halt. Owner of the building and director of the institute Lejla Junus was in Oslo two weeks ago to meet Norwegian authorities and peace activists. Norwegian authorities have been giving the institute financial support through funds granted to the Norwegian Helsinki Committee, a member of the international Helsinki Federation for Human Rights.
The demolition of the building took place once night had fallen on the capital and destroyed documents, books, equipment and furniture. "This isn't a question of finances. What the authorities have done is criminal. Our enemy is the corruption found within the authorities that govern Baku", Junus told Norwegian media. The insitute was not the only organisation to suffer as a result of the demolition, as Azerbaijan's only womens' refuge was also housed in the same building and suffered the same fate. The building was apparently listed as one of many to be torn down as part of the preparations. Junus however refers to a court decision from may, which stated that the building was not to be touched before a final court decision was announced.
Junus also goes on to tell of how whole streets are being torn down in anticipation of next year's event, and that a dramatic rise in the number of similar cases is unfortunately all to evident in the Azeri capital. The director also came with what she claims to be a conservative estimate of over 20,000 people being affected by the actions of the authorities. State Secretary of the Norwegian Ministry of Foreign Affairs, Espen Barth Eide, says that he is indeed familiar with the work of the institute and has no reason to doubt Junus' claims. Eide is at the same time extremely critical of the Azeri authourities, saying that it's doubtful that the authorities have adhered to Azeri law during the takeover and demolition of the institute.