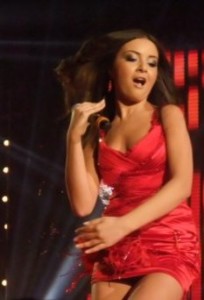 AySel, together with Arash, represented Azerbaijan at the 2009 Eurovision Song Contest with the song Always, and finished in 3rd position.  She has just released her latest song, Tonight.  This has the possibilities to be a big summer hit.
AySel was selected internally to represent Azerbaijan in 2009 for Eurovision.  She has been very busy since the contest and has gone on tour extensively with Arash to Sweden, Greece and Russia.
She has released several solo singles including Fallin and the Azeri version of that song, Yanaram.  She also released songs such as Don't Let The Morning Come and Sen.
Now comes the release of her new song, Tonight.  AySel has recorded the song in a London studio.  The song has a summer vibe, a little like style of Romanian singer, Inna.  This could be a big international hit for Aysel.
She is also working on her debut album for release soon.
You can hear the song below and buy the song from www.soundcloud.com/soundextra .