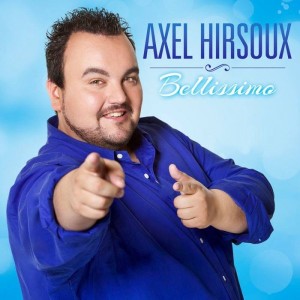 After representing Belgium in Copenhagen with the moving ballad Mother, Axel Hirsoux has released his new single called Bellissimo. This song has the classic style of his Eurovision entry but his strong voice sounds much more lively keeping his deep and tender tone.
Bellissimo, which means Very Beautiful, is a pop ballad that, despite the title of the song is in the Italian language and it sounds a bit like a classic Italian song, most of its lyrics are in English. The chorus in particular is very attractive, with lively guitars and Axel Hirsoux singing in a spirited manner. He has recorded this song in collaboration with the music producer Yannic Fonderie.
Axel will be pretty busy this summer performing all around Belgium but he will also spend some time at the studio recording all the tracks of his upcoming album which is set to be released in October.
The song is ready for purchase on iTunes, and, despite today it is only available in the Belgian store, it will be accessible in all countries soon.
You can listen to a snippet of Bellissimo in the video below where you will also find our 3D video of Axel's performance at the 2014 Eurovision Song Contest representing Belgium with Mother.
You might also like to read: