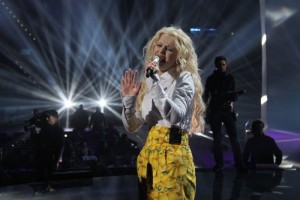 Mika's victory was controversial this year owing to speculation and rumours of vote rigging and favouritism. Would her first rehearsal be just as messy as the national final?
The staging of the Ukranian act is very simple, the number opening with piercing blue rays of light shining down on Mika. The big talking point of the her stageshow was in fact the gimmick used to provide images for the backdrop. A table with a tray of sand on it was placed at the side of the stage, with a camera directly above it. The woman behind the table is reportedly quite well known in her country, after having come second in Ukrania's Got Talent for her unique artistic interpretation. She makes images in the sand which are relevant to the content of the song and these are then projected onto the screen, giving an animated effect. The gimmick itself is a stroke of genius, brilliantly simple making the act stand out. However the difficulty will lie in how the imagery will translate onto the TV screen for the average viewer – although looking spectacular in the venueon the big screen, the effect will no doubt be completely different when watched at home, and may even affect the song negatively, taking a lot of the attention away from it.
Mika wasn't wearing her outfit for the big night, but we did get a sneak preview when it was held up to the light for a camera check. From what was seen, it will be a long, white flowing gown, nicely tying in with the song title Angel. Mika's long blond tresses also reinforce this image. On stage today she was wearing a patterned yellow skirt with a white shirt and boots. Her only other companion on stage is a male backing singer positioned behind her, wearing a purple shirt and dark pants.
In terms of choreography, the act is nothing to mention, with Mika merely standing on stage right up until the end when she starts to come alive a little more, taking a few steps across the stage. Her vocals were satisfactory, with the male singer's voice complementing hers extremely well. She gave a convincing and powerful performance with enviable vocal acrobatics in what essentially is a rather challenging song musically speaking, depsite its stripped accoustic accompaniment. Her final note induced goosebumps. Prepare to be wowed by the act, but for all the wrong reasons!
Links