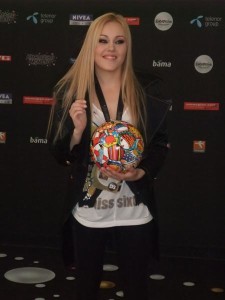 After all the points were given, some of the finalists commented on the winner and their own result. Alyosha from Ukraine, who finished tenth, was not amused with Germany winning the Eurovision Song Contest. N'Evergreen from Denmark was happy for Lena, but had hoped to win the contest.
Alyosha performed a song with a message. 'Sweet people' convinced Europe and ended tenth in the final, but that wasn't good enough for the Ukrainian singer. 'I don't understand the result, but everything has his own opinion. Germany winning was a bad surprise, just like the result of the Russian entry (11th).'
N'Evergreen, from the Danish duo Chanée & N'Evergreen, was happy for Lena from Germany. He was very pleased with the performance he and Chanée gave, but the 4th position didn't satisfy him: 'We hoped we could have gone all the way, because we believed we had a very good song. For Denmark, this wasn"t so good.'
The Turkish group maNga, the runner up, was very happy afterwards: 'Germany deserved the win, Lena sang a very cool song. We always hoped to end in the top 5, we did even better. Just great!'. Also happy faces were found at the Romanian delegation. 'We are very happy with the outcome and our performance', said Paula Seling & Ovi.