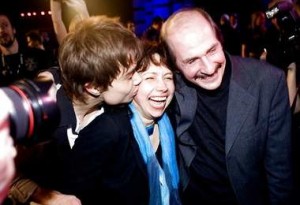 The father of the 2009 Eurovision Song Contest winner has told the story about how he escaped the KGB who were chasing him, ended up in Norway and later managed to get his wife and their little son, Alexander to follow him.
Alexander's father, Igor Rybak, now 55 years old, was a skilled violinist and together with a big Belarusian orchestra he was in Norway for a concert in 1990. At that time Belarus was still a part of the Soviet Union and moving to West Europe was for many an impossible dream as it involved risking your life. A KGB agent was following the orchestra during their stay in Norway. His job was to make sure that no-one "went to the other side".
Igor Rybak still managed to escape though when they were in Norway and for three days he was hiding: "The KGB agent was chasing me like crazy. I was terrified of being caught and sent to jail. That would definitely have cost me my family, my career and maybe my life." He continues: "My Norwegian friends helped me avoid the KGB agent and at the end they all went home."
 
Two years later he managed to get asylum in Norway and thereby was able to be reunited with his family who got to Norway in 1993. Igor Rybak risked his life, but he felt it was a chance he had to take: "I just wished to have my freedom to be able to say what I wanted – and to be able to travel to wherever place in the world I wished to go".