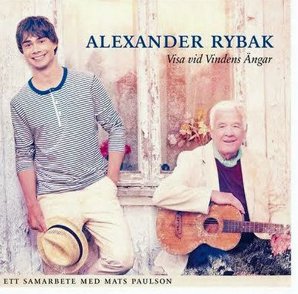 For the third consecutive year, former winner Alexander Rybak has released a new album, with his productivity showing no signs of stagnating. His newest offering, Visa vid Vindens Ängar is entirely in Swedish and shows a marked maturity in the young artist's musical style.
The album Visa vid Vindens Ängar was came out on the 24th of June with very little publicity surrounding its release. In recent times Alexander has kept a more low key profile, preferring instead to travel around smaller places within Norway holding concerts and holding CD signing sessions for his fans, something he appears to be much more at ease with.
The album came about as a result of a cooperation with the respected and revered swedish folk musician  Mats Paulson. He was fortunate enough to hear Alexander perform his version of the Swedish folk music classic Visa vid Vindens Ängar during a concert with Elisabeth Andreassen, befiore the whole Fairytale adventure had begun. He wrote to the young star, thanking him for his interpretation on stage. So began a fruitful friendship and since then the two have kept in touch. The songs on the album are a mixture of existing material composed by Paulson himself, and four new songs written and composed by the two together.
Paulson plays a relatively small role in performing on the actual album, leaving Rybak in the spotlight. The talented young musician sings as well as playing both the violin, piano and other string instruments on the album, showing his veratility and true talent off superbly. Although there has been relatively little media exposure surrounding the release of the album, it
appears to have been very positively received by most newspapers, receiving mostly very favourable reviews. The track listing on the album is as follows:
Song 1: Träden I Villa Borghese (The Trees of Borghese Villa)
Song 2: Din Första Kyss (Your First Kiss)
Song 3: Resan Till Dig (The Journey To You)
Song 4: Visa vid Vindens Ängar (Ballad of the Meadows of the Wind)
Song 5: En Katt på Min Kudde (A Cat on my Pillow)
Song 6: Den Lyssnande Blomman (The Flower that Listened)
Song 7: Maria
Song 8: I Ditt Sommarhus (In Your Summer Cottage)
Song 9: Till En Vildmarkspoet (To the Poet of the Wilderness)
Song 10: Jag Föddes Ur Havet (I Came From the Sea)
Stay tuned for Eurovisionary's review of Alexander's latest offering!