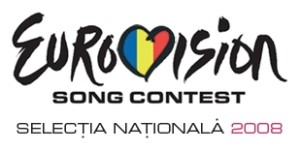 Romania selected the last 6 qualifiers for the national final that will take place on 23th of February.
In an exceptional show , the Romanians could vote their favorites along with the 12 members of jury (different from the first semifinal).
Viewers were treated to a really good show with very good songs, like Romania used to do it every year. There were excellent voices and some contestants even came all the way from Sweden to compete in Romania tonight ( Rednex and Biondo ). Daniela Nane was replaced by Alina Sorescu because of some health problems. Alina did a very good job of presenting the semifinal, and also surprise from the green room, Iulia Marciuc, did a great job in the green room. These were the ingredients for a great semifinal.
During televoting TVR showed us a sneek preview of the show that Gora Bregovic will perform in Romania national final.
Mihai Traistariu, Marcel Pavel and Laurentiu Cazan shared some things about their experience in Eurovision with the contestants. The public also had the opportunity to listen them perform live.
The winner of this semifinal is BIONDO from Sweden with the song SHINE , they recieved 3098 votes from televoting and they were the jury's favorite.
So , the 6 finalist from the 2nd semfinal are:
Biondo – Shine (278 points)
Paula Seling si Provincialii – Seven days (228 points)
Nicola – Fairytale story(206 points)
Catalin – Run away (206 points)
Zero & Marius Moga – Come this way (189 points)
VH2 – Follow me(186 points)