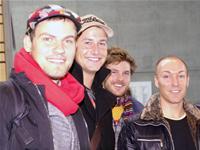 When the deadline ended today Danish broadcaster, DR, had received 562 songs for the 2010 Dansk Melodi Grand Prix. A jury will now select the six songs that will be competing with four specially invited songs to represent Denmark at the Eurovision Song Contest in Oslo.
The Danish final will take place on the 6th of February in Aalborg, North Jutland, with ten songs in the running. Just as last year six, of these songs will be selected from the submitted songs while another four will be specially invited by DR to take part. Last year 684 songs were submitted to the open selection so the 562 songs this year is quite significantly lower, but not yet alarming.
Among the well known names who have revealed that they entered a song is Peter "DQ" Andersen, who represented Denmark at the 2007 Eurovision Song Contest with the song Drama Queen. He didn't make it to the final, but wants another chance so badly that he has entered with more than one song this year. Claus Christensen, one of the songwriters on Drama Queen, has submitted three or four songs for the 2010 Dansk Melodi Grand Prix. Last year he was on stage as a singer for the first time with the song Big Bang Baby.
DR normally announce the participants for the Dansk Melodi Grand Prix in December or early January so we will have to wait another few months  to find out who will have a chance of bringing the Eurovision Song Contest back to Denmark, 10 years after the Olsen Brothers won in Sweden with Fly On The Wings Of Love.