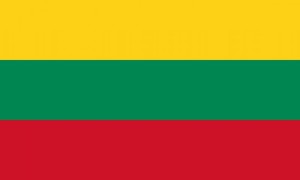 Tonight 3 more acts qualified to the final of the Lithuanian national selection.  12 acts competed in the show that will eventually decide the act to represent Lithuania at the Eurovision Song Contest in Dusseldorf.
Here are the acts competing tonight –
1. Timohi Setellite of setellite
– This song I suppose has some humour. There are some strange chants and even break dancing. The 2 main male vocalists look like twins.  Bizarre opening!
2. Eglė Petrošiūtė Smile
– Eglė begins as if playing a piano.  She is joined by 2 girl backing vocalists.  Thiis has a nice soulful feel.
3. Flaer Kibernetiniame Sode
– Singer is dressed in thick fluffy coat.  Joined by 2 male dancers in 2 large bubbles.  Yes, another bizarre song and performance.
4. Gražina Jonušaitė Mylėk Savo Priešą
– She is joined by 1 girl backing vocalist.  This is a rock style song with a good chorus.
5. El Fuego Esu žmogus
– 3 member male group.  This is opera style sung in Lithuanian language.
6. Greta Smidt Elektronic Love
– Electro dance song.  Greta is joined by 3 male dancers and 2 female backing vocalists.  Good Performance.
7. Linas Adomaitis Floating To You
– Linas is joined by 5 girls.  They are all sitting on park benches with street lamps and a clock behind them! The girls have violin, flute and guitar.  A very summery, cheerful soul song.
8. Viktorija Ivaškevičiūtė Be My Baby
– Nice pop song. Viktorija is wearing white and has 2 girl backing vocalists.  The song is co-written by Linas who sang song 7 tonight.
9. Jūratė Miliauskaitė Tiesiog Diena
– Lady singing in long blue dress and playing guitar.  The song is in Lithuanian.  A ballad but a little forgettable.
10. Avenue Acoustic Atgal į Nuodėmę
– Here we go again with another strange stage performance.  Male singer is joined by 2 guys sitting on chairs playing cards and looking depressed.  I know the feeling.  Strange song with 'jittery' beat sung in Lithuanian.
11. Donny Montell & Sasha Song Best Friends
– Donny & Sasha are joined by 3 girl backing vocalists and a girl dancer.  Very catchy pop song that should do well.  Sasha is already in the final as a solo performer from semi final 1.
12. Rūta Ščiogolevaitė Break Free
– She is dressed in long white dress and standing on a raised stage.  A pop ballad song well performed.
The 3 acts to make it to the final on Thursday 24 February are Linas Adomaitis, Rūta Ščiogolevaitė and Viktorija Ivaškevičiūtė.