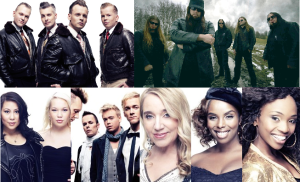 With spaces in the Norwegian final starting to fill up, tension is rising as to which acts will advance straight to the final this coming Saturday and which other two acts get the chance to live another day and have another go in the Last Chance round on the 5th of February.
After yet another excellently produced show from Florø, all attention this weekend will be focused on Skien, where no doubt the audience will be just as enthuastic, giving us a real party atmosphere. This heat should be just as exciting, as it is a mixture of both well established acts with high expectations as well as novices, making their Melodi Grand Prix debut. Regardless of the outcome, we're guaranteed a great time in the capable hands of Per Sundnes and Anne Rimmen. While waiting for Saturday to come around, you may want to swot up on some background info concerning this weeks batch of hopefuls. To listen to the latest songs in full, click here.
Song number 1: Susperia – Nothing Remains (Pål Mathiesen/Terje Andersen/Christian Hagen/Ian Kenneth Åkesson/Håkon Didriksen/Øyvind Mustaparta)
Keep of Kalessin started a trend last year, which NRK are obviously keen to continue – the presence of Metal in the contest. Susperia are quite well known overseas in metal circles and have existed since 1999.Their material usually has dark, bleak, melancholic qualities. They have already released 5 albums and an EP, also playing numerous large festivals and touring all over Norway. And bona fide metal their song is – with blistering guitar riffs, and tortured vocals they still manage to deliver a song with a noteable melody. Quite gloomy yet dramatic, this effort should be just as successful as their predecessors Keep of Kalessin last year and will have metal fans moshing to their hearts' content.
Song number 2: Noora Noor – Gone With The Wind (Simone Larsen/Moh Denebi/Jennifer Brown/Bjørn Djupström)
Noora is one of Norway's foremost sould divas. A household name since the 90's, her debut album made quite an impact on its release in 1999. She has worked with the likes of super producers Stargate since her debut, and brought out her third album in 2009 to jubilant reviews. Simone Larsen is no stranger to most fans either, after having composed what certainly was the biggest hit to come out of MGP last year, Bjørn Johan Muri's Yes Man. R&B performed with attitude and silky smooth vocals over an edgy beat, this entry could easily slip effortlessly onto the playlist of MTV. A mixture of Lauryn Hill and Beyoncé, a brilliantly contemporary number. 
Song number 3: Girl Happy – S.O.S. (Tor Einar Krogtoft-Jensen/Christoffer Bergersen)
Girl Happy are a "man band" making their debut at this year's competition. They met while at high school and have performed together ever since. They class their music as danceable pop, and cite Prince, The Beatles and Lady Gaga as musical inspiration – quite an eclectic mix! Their song is apparently inspired by Romeo and Juliet, dealing with the subject of impossible love between a girl and a robot. They have previously acted as a warm up act for A-ha at one of their concerts, so they must be doing something right! More traditional Melodi Grand Prix in style, this number holds no surprises. Boy band meets danceable Europop over an electro beat. Quite retro in a way, the chorus is shameless overkill, repeating S.O.S. an infuriating number of times. 
Song number 4: Grethe Svendsen – Like Dreamers Do (Simon Walker/Grethe Svensen/Tommy Berre)
Grethe Svendsen is yet another name whose participation has raised quite a few eyebrows. She was at her most active musically in the mid 90's, her career starting in 1992. Since then she has released 7 albums of varying success, three having been awarded a gold disc. In addition she has also performed regularly with the Oslo Gospel Choir and is a versatile artist, able to play the guitar, piano, melodica and recorder. She sums up her entry as an atmopsheric, dreamy song with power and depth. A gentle piano led ballad, Grethe's soulful tones are in their perfect element here. 
Song number 5: The BlackSheeps – Dance Tonight (Agnete Johnsen/Emelie Nilsen)
Many no doubt remember The Black Sheeps when they won Melodi Grand Prix Nordic with Oro, Jaska Beana which catapulted them to stardom and was a huge hit in Norway. They've grown up a little since then and are now ready to try their luck in the adult version. Now a duo, they compose all of their own music, playing both the guitar, piano, ukelele and trumpet in addition to singing! A simple, rocky number with a chorus that quickly gets into your head, Dance Tonight positively bursts at the seems with youthful energy and, despite it's title is to be sung in Norwegian. 
Song number 6: Stella Mwangi – Haba Haba (Beyond51/Big City)
Already a major star in Africa, Stella is now setting her sights on building herself a career in Norway with the help of MGP. Her interest in music started at the age of 6 when seeing Tina Turner for the first time. Raised on a mixture of reggae, world music, gospel and country, Stella later became influenced by hip hop.She has warmed up for Busta Rhymes and has also sung for Nelson Mandela as well as being nominated for a number of music awards, including MTV Africa's Newcomer of the Year in 2009! Now this can't fail to get everyone dancing in the aisles! Deliciously sunny, with african rhythms galore, this should do Stella proud and manage to thaw the coldest of hearts.
Song number 7: The Lucky Bullets – Fire Below (Knud Kleppe)
This year sees pure Rockabilly make its entrance on the Melodi Grand Prix stage. The quintet's music is decribed as classic rockabilly with a hint of country with contrabass and Teddy Boy quiffs to boot. The group was formed in 2006, touring the country extensively during that first year.They have already performed at the prestigious By:Larm festival as well as other gigs both at home and abroad. Their first single, Big Fat Dolly came out in 2008 and spring 2010 saw them finish recording their first album. Does exactly what it says on the tin – will no doubt appeal to the more mature among us with a penchant for nostalgia, this is pure 50's rock n' roll. A refreshing sound, they could well appeal to many others just as The Baseballs did with their Rockabilly version of Rihanna's Umbrella, which was a huge hit in Norway. 
A surprisingly high level of quality and variation in this week's heat throws the contest wide open and makes it a close call as to who will go on to the final. Well done NRK for giving us such a diverse show.