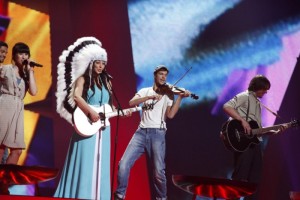 Things are starting to hotten up here in Baku as the second semi final draws nearer. There are some big names among tonight's performers, most noteably Loreen and Željko Joksimović. Will they live up to the hype? Will feathered Joan charm the Netherlands into the final for the first time in eight years? Stay tuned to Eurovisionary to find out!
To help you get the best prospective EuroVisionary will be covering the three dress rehearsals by three different writers with each their views on what they see.
1. Serbia: Željko Joksimović – Nije Ljubav Stvar
Serbia this year is represented by megastar Željko and his mere name will be enough to secure votes across the entire Balkan region. The entry is a Balkan by numbers ballad, performed with elegance. The camera seems to love him and he has undeniable stage presence. A mighty opener to semi one which is virtually guaranteed a place in the final on Saturday.
2.  F.Y.R. Macedonia: Kaliopi – Crno I Belo
Following on from Željko is another Balkan superstar, Kaliopi. The sultry songstress is on stage in elegant black as she gives her all in this melodic pop rock entry which certainly livens up the proceedings. A dramatic, searing performance and she really comes across well on screen. All in all an extremely competent performance – my only reservation is the screeching before the final chorus. This is one of the dark horses and should safely see FYR Macedonia advance to the final, being popular with both juries and televoters.
3. The Netherlands: Joan Franka – You And Me
Next up is another fan favourite, the country and western ballad You and Me. A simple, jolly little ditty which saw Joan in fine spirits, really seeming to enjoy herself. The tweaked version with more fiddle sounds great and her vocals sounded the best I've heard so far. Playful and with a message about childhood that everybody should be able to relate to, this should see the Netherlands advance to the final for the first time in eight years. If not, it will be a major disappointment.
4.  Malta: Kurt Calleja – This Is The Night
Summer pop in the guise of handsome Kurt from Malta. Poppy and punchy, Kurt gives plenty of eye contact to the camera. He uses the stage space to its full potential bounding around stage around the backing musicians. Lively, feel good and accessible combined with a satisfactory vocal performance without too much ad libbing, should see Malta make their way to the final. One word of advice Kurt, ditch the spectacles. Didn't seem to be so well received in the hall, but will probably be a hit with viewers.
5. Belarus: Litesound – We Are The Heroes
What started off as a rock entry has been reworked considerably into a pop rock entry with a catchy hook from the good looking Litesound from Belarus, which should score points with teenage girls across the continent. Despite somewhat strained vocals in part and some dubious pronunciation, the band gave a convincing performance that practically jumps off stage at you. More a televote favourite than jury favourite I think, this is the best entry from Belarus for many years and should have no problem making it into the final.
6. Portugal: Filipa Sousa – Vida Minha
Portugal take to the stage with one of the best backdrops the contest has seen this year. Filipa sings this charming entry perfectly. Tinged with passion and slightly melancholic sounding, it is a tried and tested formula that Portugal has used very successfully in the past. Filipa sounded a little off key in places, but on the whole delivered a performance she can be happy with. Although this has grown on me since coming to Baku, and although I really hope it makes it to the final, I believe it will regrettably get lost among all of the Balkan entries this year.
7. Ukraine: Gaitana – Be My Guest
Gaitana has greatly impressed with amazing vocals during this party number which you can imagine being used as a football song. Her vocals tonight were no exception. The dancers however just looked silly with odd costumes. The staging also comes across as far too messy and distracting, taking attention away from what just may be the best voice of the contest. Another song with a clubby, summer vibe, this should have enough people watching tapping their feet along and secure Ukraine a place in the final.
8.  Bulgaria: Sofi Marinova – Love Unlimited
Sofi seems to have taken my advice and ditched the leopardskin outfit, instead opting for a more elegant white number. Buklgaria has an eclectic mix of electronica and ethno this year, which has worked for them previously (remember Voda from 2007?). There's nothing wrong with Sofi's voice, it just comes across as piercing and the song seems out of place on the stage. Can see this struggling to gain support both with juries and viewers.
9.  Slovenia: Eva Boto – Verjamem
Young Eva really has swept many away with her powerful vocals in this sweeping, beautiful ballad. She gave an intense performance connecting a lot with the camera, but will this be enough to connect with the viewers. An uplifing ballad in Slovene which will probably do well with the juries but I fear go unappreciated with the general public. A weaker version of Molitva from 2007, and although pleasant on the ear, I can't see this making the final, but am prepared for a pleasant surprise.
10. Croatia: Nina Badrić – Nebo
Croatia are next in this Balkan heavy semi with the sultry Nina and her moody nebo. The dancers look very fetching on stage, vocals are fine, but the whole thing just feels slightly underwhelming and I presume this is where many will seize the opportunity to take their tea or toilet break. Not the strongest we've heard from the once reliable Croatia and judging by the reception in the hall, definitely not strong enough to gain a place in the final line up.
11. Sweden: Loreen – Euphoria
The pressure is on for poor Loreen to live up to the colossal expectations of many fans as this is undeniably the biggest fan favourite this year. Not her best vocal performance, but should be enough to carry her through,. Stunning presentation, but certainly not as strong as previous rehearsals – maybe she was holding back to save her voice. Loreen didn't seem to enjoy herself and although the song is dangerously catchy, Swedes may well be in for a major disappointment this year. A definite finalist, and one of the main contenders for the title in my opinion.
12. Georgia: Anri Jokhadze – I'm A Joker
Some people claim that this will walk it to the final – on comical merit perhaps, then yes. Far too messy and over the top production, but nevertheless comes across as extremely dynamic. Impressive vocals Anri certainly owned the stage while he performed. A very good reception in the hall, but I seriously cannot see this making the grade and if it does, it will be denying another worthy country of its place.
13. Turkey: Can Bonomo – Love Me Back  
It caused quite the upset when Turkey stayed in their semi last year, and I'm afraid they're in for the same kind of shock this year, too. Can does a very good job, giving his all in this heavily ethnic number, but it's simply not as immediate as other previous entries. The dancers just look naff dressed in sheets making the shape of a boat. Hefty rhythms had people clapping along here, but it just does nothing for me. Sorry Türkiye, better luck next year.
14. Estonia: Ott Lepland – Kuula
All eyes on Ott now, as he perfoms another favourite that is expected to do really well. The dashing Mr Lepland sings with great intensity, giving the camera some smouldering looks as well as giving us a soaring, achingly beautiful performance of this simple, piano led ballad. I expect this to have broad people across the board and to sail into the finals.If he sings the socks of this song and makes this to the final, Estonia will have their best placing in years.
15. Slovakia: Max Jason Mai – Don't Close Your Eyes
Next up, the stage comes alive with a bang, as Max Jason gives an unapologetic perfomance of a full blown heavy metal number. Not for all tastes, I can't really see this appealing to many, but kudos to Slovakia for sending something so daring. He seemed to struggle in places, being noticeably out of tune. For diversity's sake I would like this to qualify, but realistically this doesn't have a chance.
16. Norway: Tooji – Stay
Stay to me is a mish mash of modern dance infused with a taste of the Middle East, which works to an extent. The dancers make you dizzy keeping up with their slickly choreographed yet exerting routine. Tooji has sounded better, but the rest has definitely done his voice some good. I think it should make it by a hair's breadth to the final but will fail to make any greater impact. Not a vintage year for Norway sadly. Borderline as to whether we'll see Tooji on Saturday.
17. Bosnia & Herzegovina: Maya Sar – Korake Ti Znam
Fresh faced Maya performs this gentle ethnic ballad with great aplomb, sitting by the piano before rising half way through. There are certain elements I find pleasureable about this one, the instruments used, especially the woodwind but I'm afraid it will come across as dull as dishwater to most people and fail to make an impact. I think Bosnia are really going to struggle this year to repeat last year's success.
18. Lithuania: Donny Montell – Love Is Blind  
Donny, what are you doing? Lose the blindfold, please, as you're spoiling a perfectly acceptable dance number. Young Donny may well think he's George Michael vocally, and he does very nearly pull it off. I fancy Lithuania's chances in making it for a second consecutive year to the final, thanks to Donny singing his heart out for this one. It is a cracker of a disco number which should hopefully muster enough support, but disco has been tried earlier without much result. The background is highly innovative, maybe helping his act to stand out. I'll stick my neck out here and say young Mr. Montell will make the final.
The 10 songs that I think will make it to the final could be: Serbia, Netherlands, Belarus, Ukraine, Malta, Sweden, Portugal, Estonia, Norway, Lithuania
This article is based on the writers experience of the dress rehesarsal and does not neccesarily express the opinion of EuroVisionary.com.