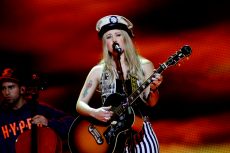 It's the third and final rehearsal for all 18 countries this evening before the first semi final of this year's Eurovision Song Contest. The tension is mounting here in Baku as eighteen participants battle it out for only ten spots in Saturday's final. Who will make it and who will be dissappointed? We'll know in under nine hours!
To give you a perspective EuroVisionary will be covering all three rehearsals by three different writers with their respective views on what they see.
So, let's take a look at the third dress rehearsal:
1. Montenegro: Rambo Amadeus Euro Neuro
As with the previous two performances, this is a choatic stage presentation with too much gimmickery. It's a unique performance, but perhaps a little too eclectic. The backdrop and wooden trojan horse (or is it a donkey?) merely make this a fun entry that won't be bothering the scoreboard on Satuday night because it won't make it, either with the juries or the viewing public.
2. Iceland: Greta Salóme & Jónsi Never Forget
Icelanders kan keep their heads held high tonight also with another stunning performance from the super duo. The sapphire blue backdrop and imagery sets off the act a treat and both Greta Salóme and Jónsi gave their all. Nice to see proper musicianship here with a touch of strings. The song has everything – drama, wind machine, amazing vocals – it all just gels so well together and was very well received in the press centre. I cannot see how it is possible for this not to make the final.
3. Greece: Eleftheria Eleftheriou – Aphrodisiac
Yet another generically Greek entry – while they are to be lauded for infusing their entries with the local musical tradition, the song is very repetetive. Her vocals have come on in leaps and bounds since she first took to the stage in what is an extremely bouncy performance. The song is memorable, has a catchy hook but we've heard better from Greece. Another one that went down well in the hall. I suspect this may shock in not making it just like Turkey last year.
4. Latvia: Anmary – Beautiful Song
Admittedly, I hated this when I first hated it. It sounded naive, and gave me nothing. Having said that, Anmary has turned in one solid performance after another, making a great connection with the camera and seems to be really enjoying herself on stage – she looks beautiful on screen singing a simple, catchy enough song to give Latvia a final placing.
5.  Albania: Rona Nishliu – Suus
Rona delivers what has to be the most overwhelming performance of the evening. A stark ballad that is vocally very demanding, she carries it off convincingly with great intensity. Rona hits all of her notes, simply breathtaking. Her afro hairstyle is the only niggle I have with the presentation. It doesn't matter that the song is in Albanian, you feel her pain. May be a little too dramatic for the average viewer to go for, but the haunting performance should go down very well with the juries in both east and west.
6. Romania: Mandinga – Zaleilah
You can't fail to be put in a good mood by this year's sunny Romanian entry. Fun backdrop with huge hearts in red and black and red hearts and a very enthousiastic performance from the Romanians. Bright and breezy, this has a killer hook that is sung well, combining even drums, accordion and bagpipes for good measure. This should have a broad enough appeal to guarantee Romania a place in the final and even make them a contender for the top spot on Saturday.
7. Switzerland: Sinplus – Unbreakable
Two brothers from Switzerland give us the evening's taste of stadium rock and what a performance! I was never a fan of this prior to Baku, but having seen their rehearsals, they give one of the most convincing performances both vocally and visually, which should continue on the trend that Anna Rossellini began last year, but I'd say their chances are borderline at best as this will be lost on the average viewer.
8. Belgium: Iris – Would You?
Young Iris made me sceptical to say the least when I saw her perform during the national selection. She is another artist who has impressed greatly with her voice with a simple, sweet, understated tune. The staging if the song is however too static. I personally like her honest song, which I have a sneaky suspicion juries may go for but will fail to impress viewers at home.
9.  Finland: Pernilla – När Jag Blundar
Although the song has a touching story behind it, and is a gentle ballad that normally proves to be popular with both juries and viewers, I just don't think this is memorable enough. Pernilla turns in a perfectly decent vocal this evening, but also the fact that it is in Swedish will also prove to be a definite handicap. Well received in the hall, but can't see this making it out of the semi.
10. Israel: Izabo – Time
Izabo have performed together for a long time, as their's is one of the most polished acts of the evening. A quirky, retro sound and charm that should appeal to many. The song had me smiling and the backdrop with the giant clocks is visually captivating. Should have no problem in standing out and making an impression, especially coming straight after Finland. Definite finalist.
11. San Marino: Valentina Monetta – The Social Network Song (Oh Oh – Uh – Oh Oh)
Valentina gives her all for the tiny country of San Marino, which has caused a stir for all the wrong reasons. The song just sounds tacky, which is a shame given it's pedigree from none other than Ralph Siegel. Valentina carries the song well, and you never know, this may appeal to a younger audience, but left me cold. Are you ready for a little chat? No thank you, I'd rather not. 
12. Cyprus: Ivi Adamou – La La Love
A bubbly performance is practically guaranteed as lovely Ivi takes to the stage to deliver a stomper of a song. The desk made of books that she stands on top of is quite a distrasction, but the song itself with it's deadly La La La chorus won't fail to gain support from the masses. An energetic and fun performance that should see Cyprus getting their best placing in quite a few years and may even deny Greece its place in the final.
13.  Denmark: Soluna Samay – Should've Known Better
Young Soluna gives us a confident, polished performance of a highly contemporary pop song that is yet another quality entry from Denmark. Can easily see this appealing to both teenagers, women and an adult audience. The camera loves us and this one was very well received. Will walk it to the final without a doubt.
14.  Russia:  Buranovskiye Babushki – Party For Everybody
This has gained massive support both among fans and in the press centre but remains little more than a gimmick entry. Yes, I know you can't fail to fall for the charms of the tiny babushka, but the stage presentation looks too messy and they don't seem to be so sure of what they are doing. It is a fun entry, charming in it's own way which will no doubt be slated by the juries but be lapped up in droves by European viewers! One to watch unfortunately.
15. Hungary: Compact Disco – Sound Of Our Hearts
Quality MOR adult rock/pop from the Magyar this year which has impressed me over the last few days. The group seem very sure of what they are doing, brimming with confidence on stage singing quite an anthemic song. Qualification is borderline, depsite being a high quality entry which is a shame but this is clearly not a song for everybody.
16.  Austria: Trackshittaz – Woki Mit Deim Popo
Austria make a bold statement by sending Trackshittaz, and the boys don't dissappoint by delivering an electric, fun, tongue in cheek performance which is unapologetic and in your face. With a rather aggressive party vibe and hefty beat the song has enough character to stand out and may just gain enough support to see Austria scrape into the final for a second consecutive year.
17. Moldova: Pasha Parfeny – Lăutar
Gipsy sounding Lăutar is a quick paced entry which is marred by a rather slapstick choreography with dancers lying on stage and generally looking rather foolish. Pasha however looks great on screen, turning in a solid perofmance of a song with ropey lyrics at best. Kudos to Moldova for going with a homogenous sound and an undeniably catchy number which should see them make the final with ease.
18. Ireland: Jedward – Waterline
The two twins John and Edward give a trademark lively and punchy performance of a breezy and very radio friendly song which I prefer to their entry from last year. Their vocals are at best shouty and patchy but I don't think this will be enough to hamper the massive support from their fans all over Europe. The fountain used on stage does look rather ridiculous. They didn't jump in the shower this time as they have previously done, taking away some of the comic element from the act. Should make it to the final but solely on televoting, this will not be appreciated by the juries for certain.
In my view
In my opinion the 10 songs for the final are:

Romania, Latvia, Russia, Ireland, Cyprus, Denmark, Moldova, Iceland, Albania, Israel

This article is based on the writers experience of the dress rehesarsal and does not neccessarily express the opinion of EuroVisionary.com.

The opinion expressed in "In my view" are those of the author and are not necessarily the one of EuroVisionary.com.