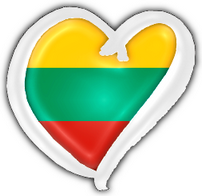 Lithuania tonight held their first semi final to eventually decide their act to participate in the 2011 Eurovision Song Contest.  The 3 acts to qualify from the 14 participants were Sasha Song, The Independent and Monika.
The 3 songs that qualified were decided by a combination of expert jury and televoting.  The final will take place on 24 February.
Mino Don't Go – This is a good dance song. The act are all sitting on chairs with a girl dancer on stage.  Not a bad start to the show.

Aurelija Slavinskaite The End – Arelija sings a nice ballad.  She has 2 dancers on stage.

Mezzo Tronic I Mean It – This is an unusual song.  The audience and jury do not appear to understand it though.

Laura Jaraite City Of Steel – Laura and her vocalists give their all with this song

Neferite 3 Wishes – This has an r&b vibe.  Neferite, wearing a black leather jacket, is accompanied by 2 male dancers and 3 backing vocalists. Good vocals and a confident performance

The Independent 7th Bus – A 60s pop/rock feel.  2 guys with Jon Bon Jovi style hair on stage with guitars and a drummer. They are dressed in formal black suits.  Song does not seem memorable enough though.

Gintare Korsakaite Atmerk Akis – A nice mellow, midtempo song. Gintare has 2 girl backing vocalists.

Dovydas Mašcinskas Dirty Avenue – It is just Dovydas on stage with his guitar to start.  Then he is joined by 3 girl dancers.  This has a soft rock sound.  Vocals are a little like Eric Clapton.

Monika Days Go By – A beautiful ballad.  Monika is dressed in a silver glitter dress.  She has 2 backing vocalists on stage.

Martynas Beinaris Tomorrow And After – This song has a nice melody with an 80s beat.  Martynas is dressed in a grey suit with shirt and tie. 2 male dancers are on stage with him.

Urte Šilagalyte Candy Baby – This dance song seems to have all the qualities to qualify. Urte gives an energetic performance with 3 male dancers.  She is wearing a short red dress and dancers are topless with just braces.

Sasha Song The Slogan Of Our Nation – Sasha, who sang for Lithuania at the 2009 Eurovision, sings the song with good vocals but the song seems a little dull.  Sorry Sasha fans!

Agnieška Her Name Is May – This has a nice pop feel.  She is wearing short pink dress and she is accompanied by 3 girl backing vocalists…and a tree and some grass!!

Ramunas Difartas Before You Go – This is a rock song.  Very well performed. The 4 member male band are with 2 girl backing vocalists on stage.
So, the 3 acts that progress to the final are Sasha Song, The Independent and Monika.
Lithuania will compete in semi final 1 on 10 May 2011 in Dusseldorf.