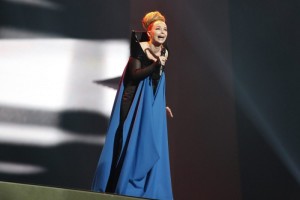 The atmosphere here at the spectacular Crystal Hall is steadily building towards the big day tomorrow, as 26 nations battle it out to become the winner of the Eurovision Song Contest 2012. But, prior to the actual contest, one more hurdle remains and that is the all important jury final. Who will bomb and who will impress? Read on to find out.
To help you get the best prospective EuroVisionary will be covering the
three dress rehearsals for the final by three different writers with
each their views on what they see.
Note: They were having quite some problems deciding on the best way to
avoid people from filming the screen here in the press centre.
Unfortunately they decided to use this dress rehearsal on trying out
various settings causing us not to see the screen and othertimes not to
have any sound. Those things are reheared to as technical problems
below.
01. United Kingdom: Engelbert Humperdinck – Love Will Set You Free
A bit of a limp opener for the contest this year in the guise of veteran crooner Engelbert Humperdinck. He may have sold millions of records on a global basis, and the BBC may well have enlisted help from the top songwriters and producers, but regrettably you can't turn a pig's ear into a silk purse. Engelbert tries his best bless him, the ballad is pleasant enough but just doesn't go anywhere. His vocals were slightly off key and he murdered the final note, but he came across well on camera. The weakest of the big five this year without a doubt.
02. Hungary: Compact Disco – Sound Of Our Hearts
Hungary was one of the surprise qualifiers on Tuesday with this anthemic piece of pop rock. It builds nicely, has a great arrangement and ticks a fair few boxes but on the whole is, dare I say it a tad bland and makes for a very slow start indeed to the contest. Despite a credible vocal performance albeit slightly askew in places and moreover a great stage show, I sincerely doubt that Compact Disco will be troubling the upper echelons of the scoreboard tomorrow.
03. Albania: Rona Nishliu – Suus
Next up we have bundles of drama from the lovely, humble Rona Nishliu. Her stylist should have been fired, because that dreadlock around her neck, despite heavy symbolism just looks skanky. The staging on the Albanian entry is simply stunning. Her vocals were once again spot on, giving hopefully more than myself goosebumps and they brought the house down quite literally here in Baku. Perhaps a bit arty, achingly beautiful and so melodramatic, this is for me one of the best entries based on purely artistic merit. Her perfomance came across as extremely emotional but I fear will be lost on the majority of viewers although I would love to be pleasantly surprised.
04. Lithuania: Donny Montell – Love Is Blind 
A moody opening from the fresh faced Donny Montell in a George Michael pastiche. The blindfold is still there depsite silent prayers on my part, otherwise little Donny could be this evening's dark horse. The song is a huge, camp disco number with him giving his all in these three minutes. Echoes of Careless Whisper rattling around a disco glitter ball make for the first toe tapper of the evening. If he sings as well as this on the night, it could give Lithuania it's best ever placing.
05. Bosnia & Herzegovina: Maya Sar – Korake Ti Znam
Maya and Bosnia was another surprise qualifier with this gentle balkan ballad. A pleasant mixture of strings and piano make this three minutes of easy listening. When the pan pipes kick in however, I'm afraid that will signal to Europe that it's time to put the kettle on no matter how much wind machine is used on stage. Good solid vocals and simple, effective lighting but this song just doesn't make that much of an impact and falls just short of the mark.
06. Russia: Buranovskiye Babushki – Party For Everybody
Next up are one of the acts to watch, the cute and cuddly Russian grannies and you should be quickly won over by their charms. The opening reaction from the audience was deafening for what can only be described as a novelty act or some russian induced hangover from drinking one too many vodkas. Can't see this getting past the juries, but it will no doubt be lapped up in droves by the majority of TV viewers. This one comes across fantastic on camera with the main focus being on the cutest, smallest one. A definite contender for the top spot, a position in the top 10 practically guaranteed. Not my cup of tea, but I can see why people would vote for it.
07. Iceland: Greta Salóme & Jónsi – Never Forget
Another highly anticipated entry tonight, and what a smouldering performance. The duo got it just right, and could go all the way with this one. Both Greta Salóme and Jónsi seemed to soar vocally with ease, giving one of their best performances so far in Baku with a genuine chemistry on stage. A fetching mix of a drama laden vocal arrangement and strings can never fail and will have bags of appeal both in East and West. Fantastic staging, this is among my favourites tonight. It ended with a bang and could well be indicative of how they will perform on the night.
08. Cyprus: Ivi Adamou – La La Love
Bubbly Ivi gave another great performance which will no doubt make quite a splash. Accompanied by four female dancers, she managed to overcome questionably hoarse vocals in places to give a cracking show. The melody itself is slightly outdated Meditteranean disco pop but should be strong enough to make its mark. A fresh, fun and bouncy performance which should hopefully see Cyprus crack the top 10. Went down a treat in the hall. 
09. France: Anggun – Echo (You And I) 
France are pulling out all the stops this year by sending femme fatale and Asian beauty Anggun who doesn't need to prove herself as an artist. Joined on stage by male topless acrobatics, Anggun puts on quite the show. A generally gutsy performance vocally, her voice carried very powerfully for most of the time albeit it slightly strained in places. A messy arrangement has for me spolied this uptempo dance number. Dressed in a bronze coloured flowing gown she looks a treat on screen. Can't rule out France racing to the finishing line with this one, but am not overly convinced. 
10. Italy: Nina Zilli – L'Amore È Femmina (Out Of Love)
Feisty Nina shimmies on stage for Italy in this bilingual power pop entry. A memorable, catchy hook in a song that oozes class with a vampish air to it. A mixture of Amy Winehouse meets Sophia Loren, Nina has plenty of attitude on stage and comes across brilliantly in her little silver number. Fantastic vocals could well help Italy secure the title of victor this year. Deliciously free of gimmickery on stage this entry rather lets the music take centre stage and speak for itself. Another well received and highly regarded entry.
11. Estonia: Ott Lepland – Kuula 
Dishy Ott from Eesti will no doubt have many a woman or teenage girl swooning across the continent and quite a lot of men too. His simple, piano led ballad in Estonian provides a welcome break and a nice contrast, sandwiched in between Italy and Norway. Ott gave one of his best performances so far and sang his socks off tonight. A polished delivery of an extremely emotive ballad should provide Estonia with its highest placing in a long time. A performance both Ott and Estonia can be proud of.
12. Norway: Tooji – Stay 
Sorry Tooji, your song just does not do it for me. He has an energetic performance with more than enough to please the eye, but the slick choreography leaves young Tooji noticeably out of breath in places. A slinky, sensual performance with hefty rhythms and an oriental flavour should however see Tooji and Norway manage to crack the top 10 for the first time in three years. I thought it sounded quite tinny in places, slightly hermetic but then thank heavens for diversity.
13. Azerbaijan: Sabina Babayeva – When The Music Dies
Next up is home grown talent Sabina in a dress that's had everyone talking. She opened to rapturous applause from the audience. The Azeris have given us consistently high calibre entries since their debut and this one is no exception. The staging is moody and sultry, the outfit suitably over the top for this aspiring diva who pours her heart and soul into this performance. Slightly ruined by the sudden inclusion of wailing from some "musician" in the background – supposedly representing traditional Azeri music culture. A cracking effort from the host country this year.
14. Romania: Mandinga – Zaleilah
This year's Romanian entry has everything – upbeat, an infectiously catchy chorus, this will have everyone up on their feet and dancing. Lead singer Helena belts out this stomping number and I don't know, but what apparently sounds like a strange combo on stage just works – bagpipes, drums and accordion just gel together. Depsite the slight vocal mishap on stage, their enthusiasm may just be enough to carry victory and the contest to Bucharest next year. A performance that brought the house down.
15. Denmark: Soluna Samay – Should've Known Better
Poor Soluna has been plagued with a cold earlier this week but was sounding better tonight. She was a proper charmer in front of the camera and came across as a potential candidate to reap the teenage vote. A fabulous sound, modern and contemporary, young Soluna impressed tonight. The Danes seem to have been on a roll tonight and this could also secure them a place in the final shake up and the all important top 10. A bright and breezy performance.
16. Greece: Eleftheria Eleftheriou – Aphrodisiac
I'm so sorry. I know that Greece is in crisis and ERT are in dire financial straits but is that good enough reason to inflict cheap tat like this on the rest of us. Don't get me wrong, Eleftheria is a real sweetie, the camera loves her and her dancers do a brilliant job but we've heard this a million times before and I find it highly irritating that she denied another more worthy entry a place in the final. Shaky vocals merely add to the catastrophe and the worst thing is that
this is practically guaranteed a place in the top 10 due to diaspora and nothing else.
17. Sweden: Loreen – Euphoria
And now things start to hotten up as huge favourite Loreen takes to the stage. Her PR juggernaut has proven to be unstoppable but has actually instigated something of a backlash. Does she live up to the hype? Definitely! She took to the stage with the crowd cheering her on. A striking stage presentation and outstanding vocals over a modern beat and sound may combine to make a winning combination. Should attract votes from all over the continent and put Sweden up there in the running. This is one of the ones to beat.
18. Turkey: Can Bonomo – Love Me Back
A heavily ethnic effort from Turkey with a ridiculous stage show and trite lyrics at best. Can delivers a confident perofmance on what is practically home soil as his dancers fling themselves around the stage with much gusto. What could been eastern promise just falls flat on its face. People clap along, but I'm afraid to say for me this is one of the weaker entries from Turkey.
19. Spain: Pastora Soler – Quédate Conmigo (Stay With Me)
Pastora Soler is a well known name in her native Spain, so quite why they resorted to using this slightly outdated Swedish ballad is beyond me. Add to the equasion her choice of grecian wardrobe, looking like she's escaped a toga party and the confusion is complete. Vocally you couldn't fault her perfomance on the night, professional and classy down to her fingertips. This for me has to be the most overhyped song of the contest that has fan favourite written all over it.
20. Germany: Roman Lob – Standing Still
Roman is a highly regarded entrant this year, singing his kuschelrock number Standing Still. A simple, uncluttered interpretation, it comes across well on screen and his boyish looks should have tweenies across the continent torturing their parents to vote for him. He deliverd a strong performance, but this becomes already after one minute quite repetetive. He appears to be loving his three minutes on stage, but I still don't think that will be enough to bring German higher than middle of the pack.
21. Malta: Kurt Calleja – This Is The night
Smily Kurt from Malta gave a fantastically enthusiastic performance, attempting to get everyone to sing along. His enthusiasm is indeed infectious, although the staging is overly busy and this pleasantly accessible little ditty is marred by screeching from his backing singer and over the top ad libbing from Kurt himself. Less is more, Kurt, less is more. We know you have a good voice and are not afraid to use it.
22. F.Y.R. Macedonia: Kaliopi – Crno I Belo
Fiery tempestuous lovely Kaliopi gives us an extremely melodic number tinged wih a touch of balkan melancholy and darkness, which morphs into a full blown rock number not long into the act. The mix of violin and electric guitar complement her raspy voice perfectly. I can do without the screeching note before she launches into the last chorus. The pace slows down at the end for great dramatic effect, and this coukld be one of the dark horses this year.
23. Ireland: Jedward – Waterline 
Next up is the return of the terrible twins from last year, Jedward performing teen friendly pop in a breathtaking tempo. Their costumes may possibly have been stolen from the set of Star Trek, the addition of a water feature on stage just looks ridiculous. Their vocals were at best ropey, but then again that hasn't exactly been an obstacle for many teen heart throbs previously. Production wise they've done the best they can, not as immediate as last year's Lipstick, but still a jolly little number.
24. Serbia: Željko Joksimović – Nije Ljubav Stvar
Željko returns for another pop at the cherry with a beautiful Balkan ballad, although it has¨to be said it's not as good as Lane Moje from 2004. He comes across as brimming with confidence and full of presence on stage and lush orchestration combined with an amazing vocal performance give one of the strongest entries on show tonight. Due to his late draw and musical pedigree, this should once again see Serbia into the top 5. 
25. Ukraine: Gaitana – Be My Guest
Ruslana horns echo the entry of a true soul diva who launches into a festival party of a club anthem. The staging here will look amazing on screen, with four mobile LED screens behind her projecting animated dancers from behind which her real dancers suddenly spring to life. Gaitana could possibly be accused of being vocally over the top, but my word, she certainly wakes up the audience with a jolt after placid Serbia. Ukraine should continue their past positive track
record with this anthemic arm waving number. 
26. Moldova: Pasha Parfeny – Lăutar 
Cheeky Pasha is the last to take to the stage and stays true to his musical roots in this racy gypsy tinged number. Thankfully the backing dancers and singers have ditched the wedding dresses, opting for something slightly less ridiculous. Pasha leaps and bounds around stage in what looks like a leather butcher's apron. A fiery, passionate performance with enough distinctive flavour and character combining with a late draw could give Moldava a repeated success like last year in Düsseldorf.
I believe the winner will be among these 5: Iceland, Estonia, Romania,
Sweden and Italy.
EuroVisionary is recording 2D as well as 3D videos from this dress rehearsal. Subscriobe to our youtube channel to be kept updated.
This article is based on the writers experience of the dress rehesarsal
and does not neccessarily express the opinion of EuroVisionary.com.