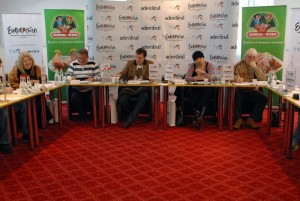 On January 25, the Romanian broadcaster TVR held the pre-selection of Selecţia Naţională, the National Selection for the Eurovision Song Contest 2010. The broadcaster received 111 entries for the selection which is being co-produced by the newspaper Adevarul (truth) this year.
The eleven-man jury included Calin Geambasu (composer), Dana Dorian (music critic), Andrei Kerestely (song writer), Sanda Cepraga (directed music), Dida Dragan(singer), Adrian Despot (composer and singer), Cornel Fugaru(composer), Andrei Partos (radio producer), Titus Andrei (radio producer) – designated the president of the jury.
The jusry listened to each song and scored them from 1 to 10, the songs' final score was determined by the total scores from each of the jurors. The jury decided that because the last three songs tied on points the first 16 songs, instead of 15 as per the rules, would qualify for the final.  Also the jury has decided to request some composers to change the singer of their track.
On 6 of March TVR will organise the Romanian national selection where 16 finalists will participate as set out below:
       1. "Come as one" – TBA (artist to be announced)
       2. "It's not to late" – Paula Seling (2008 National Selection) & Kamara (2007)
       3. " Searching for Perfect Emotion" – TBA (artist to be announced)
       4. "Running out of time" – The Pasager band
       5. "Play with fire" -Paula Seling & Ovi (winner of Golden Stag Festival 2009)
       6. "See you in Heaven, Michael – TBA (artist to be announced)
       7. "Come along" – Lora (ex:Wassabi) & Mihai Preda
       8. "Jackpot" – Razvan Krivach (winner of Golden Stag Festival 2008)
       9. "Round Around" – Catalin Josan (2008 National Selection)
      10. "Crazy" – Alexandra Ungureanu
      11. "Love is war" – Tina Geru (2009 National Selection)
      12. "I'm running – DALMA (2009 National Selection)
      13. "Save their lives" – Luminita Anghel (Romanian 2005)
      14. "Baby" -TBA (artist to be announced)
      15. "Lay me down" -Zero (2008, 2009 National Selection)
      16. "Surrender" – Anda Adam & Connect-r (Moldova 2006)