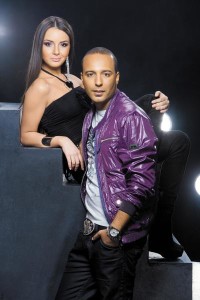 The representatives of Azerbaijan, Aysel and Arash, gave us some of their time even though they have a busy schedule. They told us their impressions and thoughts about this year's Eurovision Song Contest.
AySel, could you explain to us how things began between you and İctimai Tv?
AySel: Of course! My friends have told me about the national selection for the Eurovision Song Contest and I decided to try. I have never thought I can win but it happened! I was very, very surprised and excited. It's like, WOW, for me in many ways.
Aysel, it's your second presentation for Azerbaijan. Could you describe for us how it feels? Can we say it is a turning point in your life?
AySel: Yes, it's a life changing experience for me and it's very tough. To start in some competition, to debut in it, it's a very complicated thing to do, but to be in the second one in the line is even more complicated and I've got a lot of mixed feelings about it. I think the only possible way to do my best is to bring on all my strength and to do as much as I can to represent the Land of Fire, Azerbaijan, in Moscow on 14th of May.
How long have you been interested in the Eurovision Song Contest? What makes you attend this event?
AySel: I'm a huge fan of the contest, always watching and voting in it and it was for me a dream to participate in it. Finally, it has come true and I'm very grateful for this unbelievable opportunity.
Arash: It's a huge event for Europe so it's difficult to stay aside. I'm really looking forward to making this competition one of the highlights in my career.
Arash, how have you joined with AySel? It's known that you live in Sweden, not in Azerbaijan.
Arash: I was born in Tehran, Iran. At the age of 10, me and my family moved to Sweden and I live there now, but my great-grandfather was an Azeri. I read about the Azeri national selection for the song, and about AySel, and since then I couldn't get rid of these words in my ear: "Always on my mind, always in my heart…". I took part in the song competition with my song and AySel and I won it!
Do you have a plan to work together in the future? Maybe a single or an album?
AySel: Who knows? I think that at this point in our lives, everything is possible.
Arash: We don't know for sure, but I think it's a good idea.
Which are your favourite entries this year?
AySel: There are a lot of very powerful songs this year, but we didn't listen to all of the songs.
Arash: I can't even start to choose between them. But I really like our song.
Will you attend any special shows or promos until the Eurovision starts?
Arash: We are in a promotional tour actually.
AySel: We've got very tight schedule right now.
Finally, what would you want to say to your fans?
AySel: Guys, we are very much appreciating your support, don't go anywhere, we're going to surprise you.
Arash: Stay tuned always! You are in our hearts!
We would like to thank Aysel & Arash for this kind interview and we would like to wish them good luck. You can also watch AySel & Arash's Eurovision Song Contest diaries below.