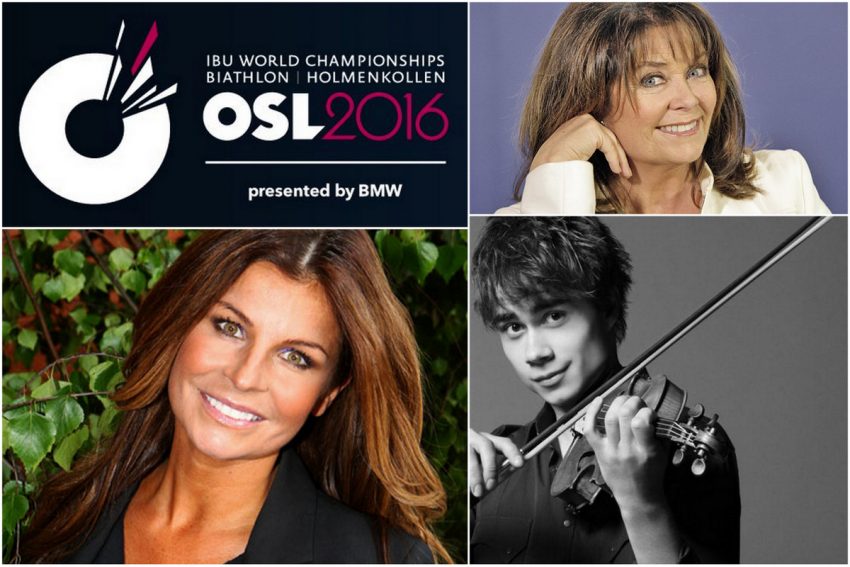 The World Championship in Biathlon will take place in Oslo from tomorrow and until the 13th of March. An opening ceremony tonight will feature former Eurovision artists Alexander Rybak and Wenche Myhre, while Carola is set to perform later into the schedule.
Biathlon is a winter discipline which consists of cross-country skiing and rifle shooting. It is a part of the Winter Olympic programme, but now it's time for the World Championship which is being held in the Norwegian capital, Oslo.
Tonight, the opening ceremony will be held and the 2009 Norwegian Eurovision Song Contest winner Alexander Rybak is set to entertain. He has also been involved in the official event song titled Miracles where he plays the violin, Gaute Ormåsen is lead singer while Olso Soul Children is on as backing. Rybak is to date the winner who won with the highest score, and his entry, Fairytale has already become a classic.
Also performing tonight at the opening ceremony is Wenche Myhre. She had big parts of her career in Germany, and also ended up representing Germany at the 1968 Eurovision Song Contest where she finished 6th with the song Ein Hoch der Liebe. Prior to that, Wenche had tried the Norwegian national finals in ´64 and ´66, but without making it to Eurovision. In 1983 she once again took part in the German seelction, and also as backing for Jann Teigen in Norway who ended up winning, but for Eurovision she was replaced with Anita Skorgan. In 1992 and again in 2009, she once again took part in Melodi Grand Prix, the Norwegian national selection.
The World Championship in Biathlon runs until the 13th of March, and the day before the end triple Swedish Eurovision participant Carola will take the stage. She represented her country at the contest in 1983 where she came third with the song Främling. In 1991 she was back, and with the use of a wind machine she won with Fångad Av En Stormvind. To complete her Eurovision Top5 hattrick, she returned to Eurovision again in 2005 and finished 5th with Invincible.
As if three Eurovision artists wasn't enough to make an entertaining schedule, the opening ceremony tonight will also feature Freddy Kalas who took part in this year's Norwegian Melodi Grand Prix final where he came second with Feel Da Rush.
To read more about the 2016 Biathlon World Championship visit Oslo 2016's website. In the video below you can watch the official song for the event sung by Gaute Ormåsen with Alkexander Rybak on violin.