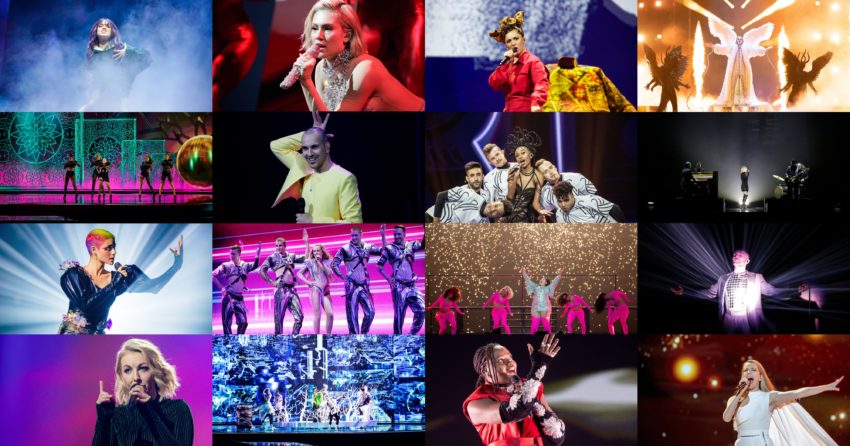 After a jury show with many technical issues, this evening, the live show was carried through without problems. Ten lucky qualifiers can now look forward to Friday and Saturday while six acts have to face that their Eurovision 2021 journey unfortunately ended here.
Last night, when the jury show took place – and half of the votes were cast, three acts had sound/ in-ear issues and was given the chance to perform once again. These countries were Romania, Ukraine and Malta. Tonight, fortunately, we had no such issues.
Tonight's semi-final show featured 2019 Eurovision winner Duncan Laurence – several times, but as he is the defending champion and the reason, Rotterdam, Netherlands is host this year, that's perfectly understandable. As a surprise, Duncan Laurence was handed a Global Platinum record for the impressive one billion stream.
We also saw Dutch singer Davina Michelle in a water-tribute. Video greetings featured several Eurovision winners including triple Eurovision winner Johnny Logan.
In tonight's show, the 16 participating countries plus host country the Netherlands, Germany and Italy voted.
Let's get down to what it's all about; the lucky qualifiers. These were announced in the following order (which is not related to their result):
Norway
Israel
Russia
Azerbaijan
Malta
Lithuania
Cyprus
Sweden
Belgium
Ukraine
We would like to give a special thank you to the six acts that didn't make it. We fully enjoyed getting to know you all, and we look forward to following you in the future.
In about half an hour, at approximately 23:40 CEST, the ten qualifiers will join a press conference. In that, a draw will take place. The purpose of that is to decide whether they will perform in first or second half of the final on Saturday.
Addition: For those who reads later, we also have the Jury show article for the second semi-final 2021.