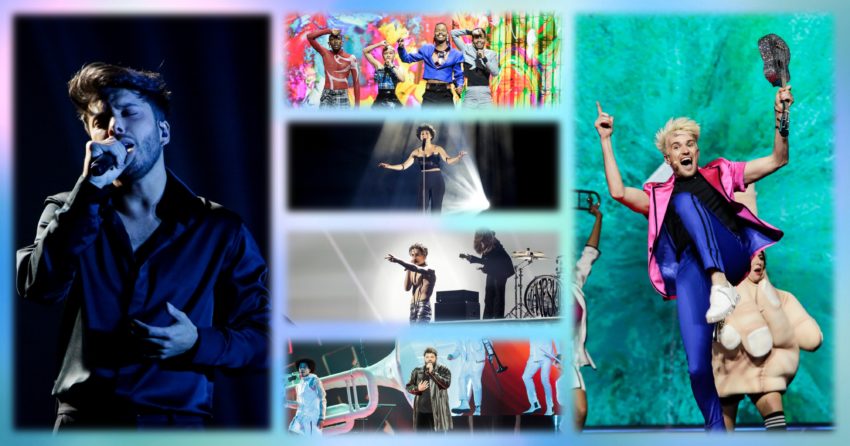 Things are shaping on at this year's Eurovision Song Contest. After today, there are no more regular rehearsals left, just dress rehearsals, jury finals and live shows. Let's take a look at the very last rehearsal from the six pre-qualified acts.
The past few days, we have seen the semi-finalists in their second rehearsal, and today it was time for the remaining six. It's hard to believe that in just one week, it's time to crown a winner of the 2021 Eurovision Song Contest.
Day 8 is just one block of rehearsal. Six countries are included; Italy, Germany, The Netherlands, France, United Kingdom and Spain. They only have 20 minutes each, and with just five minutes in between rehearsals, it went really speedy.
Who has what it takes to reach the final? Let's look at reactions from Eurovision journalists. We asked them to judge from the rehearsal if they were ready, and what might still not work for them. The article will be updated after each rehearsal remember to come back or refresh the article.
Italy: Måneskin – Zitti E Buoni
Charlotte J. – There's something not right here for me. I like their energy on stage, and I like the opening with the lead singer inviting us on stage with him just like I really like the last shot where he falls to the floor. Other than that, there's actually a lot of room for Italy to improve. The lighting of this act isn't quite working just as many of the camera shots seems wrong like when focus is on the bass player, focus is actually on her hair. I am afraid this is not a top contender to win, and of the two wrong songs we have this year, I see Finland getting the best result.
Michael O. – What a great alarm clock to wake you up in the morning. Damiano has changed his costume, but it's equally appropriate for a rock star. The red lights add to the drama. He will have no voice left after these rehearsals. Sometimes the lights are so bright, the band get hidden in them. As chaos works best for this number, no amount of rehearsals will make it better. This must be in the running to win the contest this year.
Gunec G. – Maneskin rocked the stage. I love their new outfits better than their outfits in the first rehearsal. Damiano has a great charisma and I love the group's energy on stage. Damiano looks adorable greeting the audience. He interacts each band member which I think accelerates the energy. They use the whole stage very effectively. The stage lightning is the right one for such a rock entry. I sense top 3 vibes.
Theo V. – Dark, sharp and appropriately rough around the edges. Things were more polished for the second rehearsal but the presentation remains not overly tight and that matches the glam rock style of the song. Lead singer Damiano David's vocal performance and stage presence are exceptional. He falls on the stage at the end and manages to make it look spontaneous every single time (I guess that shows a true professional underneath the alternative exterior). Italy is a highlight for me.
You can watch a clip of Italy's rehearsal below
Germany: Jendrik – I Don't Feel Hate
Charlotte J. – Just as I was beginning to appreciate this song more, it fell to the ground with this performance. Style wise it's not that much off from Mikolas Josef (Czech Republic 2018), but where that performance was actually well done, this from Germany is turning it into a joke, and that's an issue for me. I would like this to be cool with a little hint of street, but instead it has become a mockery. I would have loved to stage this song – and it would have been so much different.
Michael O. – Coming right after Italy, in rehearsals, you couldn't get two more different, yet equally chaotic performances. This is a great time on stage, and surely will be a public favourite, even if juries turn their nose up at it. When it was first released I thought I'd tire of this quickly, but I still like it. Jendrik is very enthusiastic on stage, and the rehearsals went OK. Will be interesting to see where this finishes in the final. The only down part was when he does that silly radio talking part at the end – it adds nothing to it.
Gunec G. – Jendrik is the funniest guy this year. And he is very talented. He has a message to all the bullies. He has this great energy on stage and together with the team members they make a great team. The stage act is colourful to go with Jendrik's personality and he nails it vocally as well. We see some messages on the big screen which adds meaning to the performance. Pink jacket and blue trousers look great on Jendrik.
Theo V. – Colourful, carefree and light. Only, quite a lot of work must have gone into what looks light. There is a lot of choreography, Jendrik throwing his ukulele in the air, even tap dancing. A highlight for me is when the backdrop is split into two different displays that seemingly get pushed left to right by Jendrik and his dancers. There is enthusiastic use of the walkway, too. This would have benefited from a full live audience. Hopefully, it will manage to bring a much-needed smile to many people's faces.
You can watch a clip of Germany's rehearsal below
The Netherlands: Jeangu Macrooy – Birth Of A New Age
Charlotte J. – From first hearing when the song was released, I got Hair vibes. I am so glad that they have kept that in the staging. The colours, the backdrop which is repeated in the floor… it's all there. I can't help but sing 'You don't like broccoli' instead of 'Yu no man broko mi', but hey, that just means that I can sing along to the song, and that's a good thing. I am totally connected to this one, and I think it might be time to catch a performance of Hair on a theatre somewhere. My only negative thing here is that we need to get half way into the song before all the colours kicks in.
Michael O. – For some reason, this song has been under the radar during the whole Eurovision, which is a mistake as this is a very modern sound with a very powerful message. Jeangu's vocals are perfect, and he uses the stage perfectly. The colours on the back wall are very similar to Germany's. However, while just using colour, you can tell Germany's is for fun, while the Netherlands us the paint to portray a message. So far all three automatic qualifiers rehearsals are going really well.
Gunec G. – In the first rehearsal I liked this more. The vocal performances and the African dance moves are the only things I like about this entry. I don't know how they associate the colored flower theme on stage with African beats, maybe it's my deficiency.
Theo V. – Elements of this are spot on. Presentation-wise, there is a more sombre first part and a more colourful second part. They are bridged by a dance on the walkway, which, like the opening sequence, looks like a very sleek, stylish interpretation of the music. Jeangu and his dancers look very sharp in their outfits. His vocal performance is solid, too. Like all the other artists, it would be good if he saved his voice for the final though. The host country appears relaxed about a double but this will be a pleasant surprise on the night, I think.
You can watch a clip of the Netherlands rehearsal below.
France: Barbara Pravi – Voilà
Charlotte J. – Is this the winner this year? If it will be a more quiet song this year too, this is the best bet indeed. Those of us who are bit older have probably heard quite a lot of Edit Piaf and will be familar with the style. France has kept the intimate atmosphere of the song, the dark colours and the spotlight on Barbara – all that we remember from their national final. In that national final, I had an uptempo song as my favourite with Voilà as second. At this year's Eurovision Song Contest, I also have an uptempo song as my favourite, but France is up in my top 5. There's so much I like about the performance, but her outfit isn't one of them. Other than that, it's basically perfect.
Michael O. – Barbara was certainly over emoting at the rehearsals this morning.. and as an extra there was a Janet Jackson at the Super Bowl faux pas. Wonder if that would do to her career what it did to Janets? Aside from that though, this is a classic performance, and had none of the lights nonsense from the first rehearsals. I'm not sure if I want it to win, as I don't know if I want it on all these Eurovision compilations in the future, as I'm sure I'd skip it, but Barbara has already become a Eurovision legend, and this was a great dramatic rehearsal.
Gunec G. – This is one of my favourites to win. As per the performance, the staging is plain and simple and I like it. The flying birds and the star figures add movement to the stage which I find perfect for the song and the performance. About the costume, I'd rather see an elegant simple long dress rather than leggings. Barbara is playing with the song a lot vocally and takes a risk by doing this, and she did a good job this rehearsal, let's hope she doesn't fail in the grand final.
Theo V. – A slow burner if ever there was one. I was taken with the performance for the French final but the song itself was a slow grower for me – it is currently one of my hot favourites. Things are kept simple yet quite dramatic. The presentation is still based on a bright spotlight falling on Barbara Pravi in an otherwise dark stage. Her emotive vocal performance is the clue to success and, personally, I would prefer Barbara to resist improvisation and stay as close to the studio recording as possible (the recording itself was made to sound live anyway) – make something well-worked sound effortless so to speak (a bit like Italy). Otherwise, poetry and, risking a cliché, a 'true artist.'
You can watch a clip of France's rehearsal below.
United Kingdom: James Newman – Embers
Charlotte J. – When discussing this song on the Eurovision Fan Panel, I gave it 8 points as I really do like it. At the same time, I expressed a concern that they would screw up the performance. I remained a hope that they wouldn't this year as they had a song which could do really well, but unfortunately that hope is dead. What's wrong with the people in charge of staging in that country? This is ALL wrong for this song, and suddenly James Newman actually comes across as an insesure unexperienced singer, which he isn't.
I LOVE the song, I believe it would have done really well – had the UK taken it seriously and actually come up with a performance suitable for it. It's almost like they don't want to win and therefore sabotage themselves. Unfortunately, UK have done that a lot in recent years. Every time, I put my hope in them, they fail me. Now I just wish that they stop complaining about no one votes for them of political reasons etc. If this comes last, or close to, they only have themselves to blame. It's not the song and it's not the voters fault… it's the performance which is seriously wrong.
Michael O. – I really don't know what to say about this. I don't want to be negative cause James has put a lot of work into this and he seems to be having a great time. This isn't going to win Eurovision unfortunately and we'll be lucky to finish on the left side of the board. So instead let's enjoy it and have fun and let the dice fall wherever it lands. Good luck James. His second rehearsal sounded a little better than the first.
Gunec G. – I wanna say "welcome back UK". I love how positive and confident James look on stage. The outfit matches the soul of the song and his personal image. I like the trumpet concept on stage to match with the team members on stage. On the other hand I think James has to be really careful with his vocals.
Theo V. – A few surprises here. There was more oomph than I had expected based on the comments of people who had seen the first rehearsal. A smiley James looks likeable on camera, too. I also like the two large trumpets on the stage as well as the trumpet playing itself. Having said that, not everything is right. James' vocals were really flat during the first run. Apart from the beginning, the lighting was quite unimaginative, too. Orangey tones were not enough to convey 'embers', neither were white spotlights enough to convey 'lighting up the room' (not in an impressive enough manner as far as I am concerned anyway). This is an entry that screams for pyros (please).
You can watch a clip of the United Kingdom's rehearsal below
Spain: Blas Cantó – Voy A Quedarme
Charlotte J. – This wasn't the song, I had hoped for Spain to select. I must admit though that they get the absolutely best out of it on stage. This is well performed. Blas is a good performer, he is vocally strong – and of course, it doesn't hurt that he is a delight to look at too.
I am not too convinced about the opening shot filming him from the side, but other than that there are not many shots, I would change – maybe just one where he starts to walk, but that's an easy thing to adjust as it's just a tiny bit off. I love the transition from black to blue, and I like the ending too. This works on stage – a lot better than I thought it would. Before rehearsals started, I would have placed this at the one of the pre-qualified acts that would get the worst result… but that has changed, a lot. I think Spain will do well, and it will be well deserved with that performance.
Michael O. – Totally remixed for Eurovision which means it has many tempos, but I love this song. The rehearsals were passable, Blas didn't hit that note at the screaming part, but no doubt will on the night. This is the last rehearsal, and at this point don't know what half Spain would be in, but this would be a good closing song. One of the best singers in this year's contest, lets hope Spain gets a better result this year.
Gunec G. – Much better than the first rehearsal. Blas' costume is a plain black costume which is good enough for me. The starry night with a big full moon on stage looks very good. Blas is a great vocal talent and doing a great job vocally, but he should be really very careful about those high notes at the end. Last but not least, I'm not sure if I like the uptempo rhythm in the middle of the song.
Theo V. – Blas' a cappella opening vocals got my attention. The presentation builds up steadily to the appearance of a replica moon suspended above the stage. Visually, I think it achieves a good balance between lyricism and excitement overall. Blas' vocal performance is velvety throughout apart from some brave high notes that sounded too shrill to me during the first run (unless that was due to the quality of the sound feed at my end). During the second run, his concentration to deliver them resulted in Blas missing preceding lyrics (if I heard correctly). This could still come together nicely on the night though.
You can watch a clip of Spain's rehearsal below.