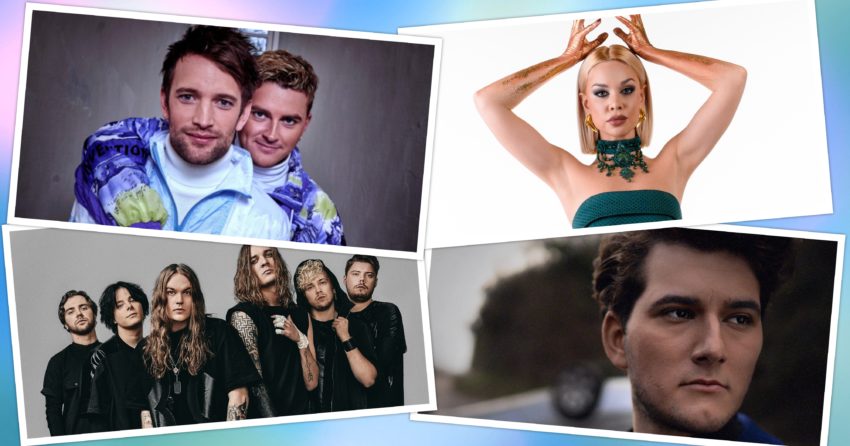 The last four acts in semi-final two now take stage in the Ahoy arena. Will the guys from Blind Channel have everything ready? Can we expect Latvia, Switzerland and the Danish duo to also be nailing their first rehearsal? Time to find out.
With Georgia, Albania, Portugal and Bulgaria rehearsing in the morning session, we are now ready for the last four acts in the second semi-final. Let's meet the Finnish rock band Blind Channel, Samanta Tīna from Latvia, Gjon's Tears from Switzerland – and finally, the Danish boys Fyr Og Flamme.
Let's check out the rehearsals from these four countries. The article is being updated during each rehearsal so remember to come back or refresh to catch the latest news.
Contrary to other years, this time, the first run through of each rehearsal was closed. This is the one where they test vocals. After that, each country had two rounds which were available for the press to watch.
Finland: Blind Channel – Dark Side
After this morning's songs, we start with the much louder sound of Blind Channel. If you like this type of music, this will be your favourite this year no doubt. The staging seems very similar to when Blind Channel won UMK by a huge margin. The lighting prominent colour is red, although blue is thrown in now and again. Of course the band are all dressed in black. The spinning members of the band open the performance on the LED screen.
The band of course are not allowed to play their instruments, but do what they can to make this look like a live concert performance. Nothing really needs to change here, they just need to come on and give an authentic performance, which they surely will. The band is placed well apart, so they can make full use of the large stage. They should be well pleased after these rehearsals, so they can head off and enjoy Rotterdam before next week.
You can see photo's of Finland's rehearsals at eurovision.tv. You can watch the clip of Blind Channel's performance below.
Latvia: Samanta Tīna – The Moon Is Rising
The queen of Latvia was in her favourite green coloured dress. She is accompanied by her three backing singers from last year, with their Still Breathing visors still intact.  They, too, are in green with short black skirts.
The background is like a large golden kaleidoscope, which looks quite impressive, but not quite sure what it's supposed to represent. Having said that, by the end large crown of golden hands appear at the top of the kaleidoscope and Samanta and her dancers assume the pose.
Vocally as always, Samanta is on top form, but the song has a weird structure and might not be for everyone. Samanta does her best with it, and if anyone can take it to the final, she's your lady.
You can see photos of Latvia's rehearsal at eurovision.tv In the video below you can watch a little bit from the rehearsal:
Switzerland: Gjon's Tears – Tout l'Univers
First of Gjon's vocals are faultless. He is wearing a sequins shirt, all in black, with white shoes. He is standing on a high white platform, not quite sure what it is, but it doesn't matter as all that counts here are the vocals and they are captivating.
Midway the stage takes a purple turn and grey lights start flashing behind him. Totally unfazed, he carries on singing lost in his own world. Performing second last is a great starting position for him though this is qualifying from anywhere. At some point he looks as if he is going to trip off the platform, part of the act. At the screaming part towards the end of the song, the lights go crazy. A perfect rehearsal.
 You can see photos of Switzerland's rehearsals at eurovision.tv You can watch part of Gjon's rehearsal in the video below.
Denmark: Fyr Og Flamme – Øve Os På Hinanden
Jesper Groth and Laurits Emanuel, the two band members, left Denmark yesterday in a retro national sports outfit. If anyone remembers the Danish national football team from the 1980s, they will know what we are talking about. Anyway, this isn't a football song, but it's still very much a 80s inspired song, so of course their outfit today was once again that too. They band are dressed in the same outfit from the Danish Melodi Grand Prix final. The performance is also very similar, but one thing is significantly different: They have three backing singers with them – and even in what seems an old fashion way – with them on stage. They stand behind them on the stage, to one side.
The stage in Rotterdam is larger than the one in the Danish final. As such, Jesper needs to run a bit longer in the beginning to get to his podium. He also runs longer when he runs out along a runway in the middle of the song. Though the stage is very different, they have actually tried to create the corridor behind them.
Backdrop colours are purple, blue and pink.
After the first rehearsal, we heard Jesper smile and say: 'You're laughing' pointed at the ones in the delegation present at the arena. There's reason to laugh and smile, this is a fresh affair that is sure to stand out. The camerawork needs some improvement. The showing of the two when they join on the same platform at the end isn't quite right. As a final thing, we end with tiny pyros at the end. It's quite fitting that Denmark didn't overdo that. Once the camera work ends up being fixed, it should be as good as it gets. They guys stand out as they are true to the retro style, and televoters will probably like this.
 You can see photos of Denmark's rehearsal at eurovision.tv. You can watch Fyr Og Flamme's rehearsal video below.