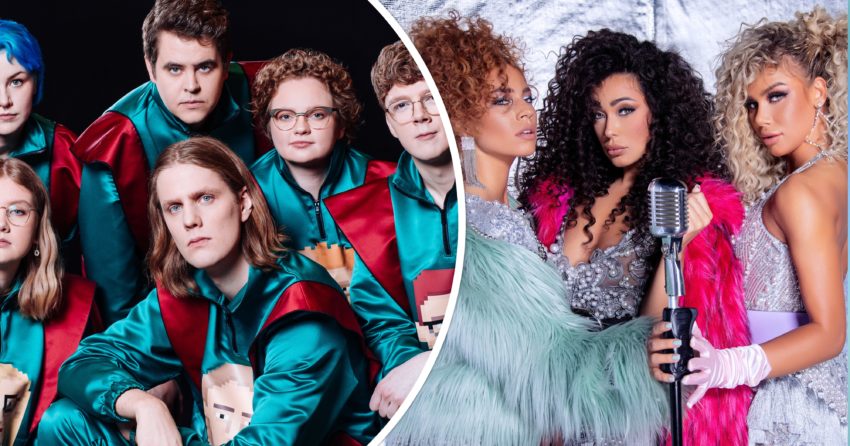 We finish the last rehearsal session for today with the acts from Iceland and Serbia. Time for a first peak of what Daði og Gagnamagnið and Hurricane are up to, and whether, we can expect something outstanding from them.
After two blocks with rehearsals today, we have been through the first seven acts for the second semi-final. Left for today was just two countries; Iceland and Serbia.
Let's check out the rehearsals from these two countries. The article is being updated during each rehearsal so remember to come back or refresh to catch the latest news.
Contrary to other years, this time, the first run through of each rehearsal was closed. This is the one where they test vocals. After that, each country had two rounds which were available for the press to watch.
Iceland: Daði og Gagnamagnið – 10 Years
For anyone who thought Iceland would win last year, but have changed their mind about this year… think again. The performance started out with the back ground stage all purple. Then it all went blue and Daði og Gagnamagnið were all in their trademark green sweaters. This year the backing band brought curved keyboards, which mid-performance, they joined together to make a circular piano aka Romania 2014. The keyboards were twirled around by the musicians
Add to that a virtual audience, probably made out of a material stronger than cardboard, which looked really effective on the stage.  Last year's song which was about his child, well the baby flew past on the stage, as did lyrics from the song. There was some signature dancing going on too, and it is clear Iceland have come back this year, to win. The vocals and harmonies were on point, with Daði throwing in a few gags without making the performance comical.
In the second run through the song ended with a pyro effect, similar to what's in the promotional video.
 You can see photos of Iceland's rehearsals at eurovision.tv.. You can watch Daði og Gagnamagnið's rehearsal below.
Serbia: Hurricane – Loco Loco
In case you don't know the groups name, it gets displayed right at the start of the Serbian act's performance. Sanja has been making good use of the curling iron, and for all you fans of it, the wind machine is back. This is a fun song, and is performed with great gusto, with equally good vocals.
White lights help to light the back of the stage, and the ladies have their own light rectangle to stand in front off to sing.
The ladies make use of the satellite stage, coming forward to be closer to the virtual audience, following the 1,2 girls come on, line. They are dressed in black and silver dresses, allowing them to dance as well as sing. Serbia should be happy with this.
 You can see photos of Serbia's performance at eurovision.tv.
You can watch Hurricane's rehearsal below.