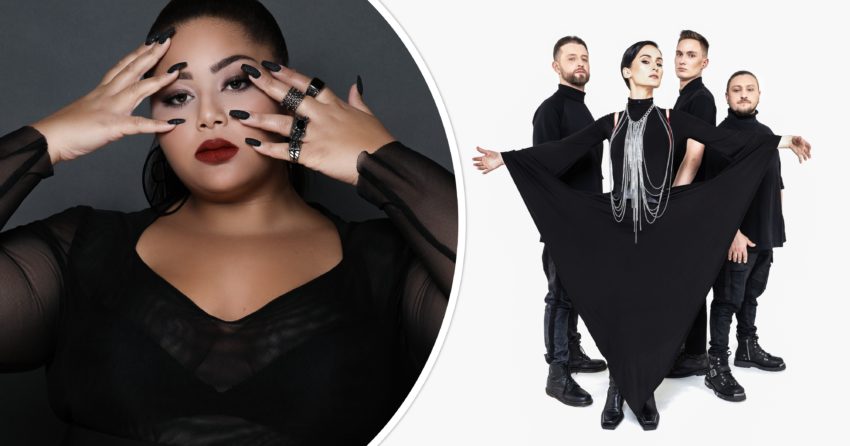 We end today's slot of rehearsals with two strong candidates this year; Ukraine's Go_A and bookmaker favourite Destiny from Malta. A lot of expectations surely, and the question is if they will be fulfilled or not?
We have been through seven rehearsals so far today – and two more were still to take the stage before we would be through all the acts for the first semi-final.
Let's check out the rehearsals from these next two countries. The article is being updated during each rehearsal so remember to come back or refresh to catch the latest news.
Contrary to other years, this time, the first run through of each rehearsal was closed. This is the one where they test vocals. After that, each country had two rounds which were available for the press to watch.
Ukraine: Go_A – Shum
The siren sound gets Ukraine off to a good start. Barren trees can be seen in the background. The back stage frequently changes colours. It's chaotic and it's brilliant. Kateryna, the lead singer is dressed in a black dress with a huge green (fake) fur  trimming and looks very colourful. The band work well around her, dancing with ring lights.
They are all dressed in white, including their boots. The singing is exactly as it is on the recording of the song. Like Hooverphonic, it's a pity the guys can't play their instruments live. The performance seems to reflect that everything is dead, and that the group are coming back to life. Great fun towards the end of this semi-final.
You can see photo's of Go_A's performance at eurovision.tv
Malta: Destiny – Je Me Casse
Malta's Queen of Soul completes the rehearsals for the first semi final. After two long days the answer to what Destiny can pull off was finally revealed.
Destiny is in a shocking pink dress and matching boots. She has four equally dressed in pink dancers with her. There are lots of effects with use of colour on the stage. You can really hear the ragtime feel of part of the song. Although Destiny is a great singer, she too would have merited bringing along some backing singers. The first performance wasn't quite the best, but we all know she can improve, plus there are really high expectations here. Actually on reflection, the issue here is Sacha-Jean Baptsite's all to familiar staging for every song she stages. The stage was full of neon colours.
Destiny strutted across the stage with great confidence, like she owns it and will surely improve before the Big night.
You can see photo's of Malta's performance at eurovision.tv. You can watch part of Destiny's performance in the video below.