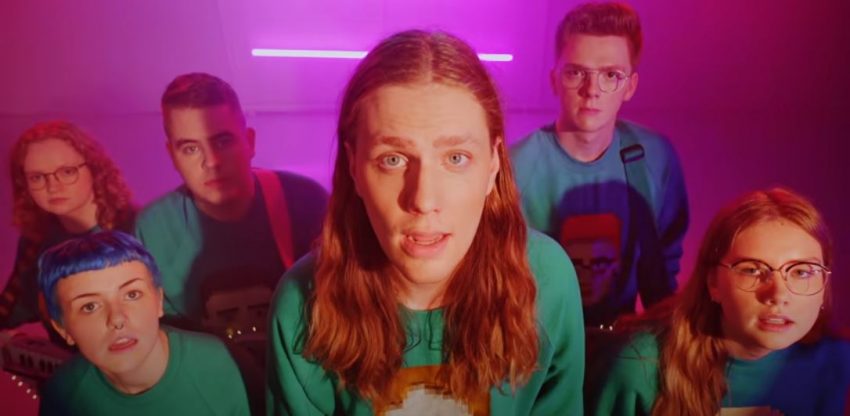 Carrying on with exchanging views about the entries that had been selected for Eurovision 2020, it's time for Iceland and  Daði og Gagnamagnið. Before the show's cancellation due to the coronavirus pandemic, their song had been singled out as one of the favourites to win the 2020 trophy but what do we all think indeed about Think About Things?
This year was the second time that Daði og Gagnamagnið participated in Iceland's Söngvakeppnin. Their previous attempt back in 2017 saw them finishing second. In 2020 however, the act managed comfortably to win the national selection and secure the ticket to represent the country in Eurovision. The lead singer of the act is Daði Freyr Pétursson and group members include Daði's wife and friends. With their signature look of teal green sweaters sporting pixelated portraits of themselves, the group has a very characteristic, goofy/retro image, that is reflected in their electronic keyboard-based sound. Think About Things is about parenthood and, in fact, addressed to Daði's little daughter.
The song was doing extremely well in the betting odds, frequently topping relevant charts, but what do we think? Could the entry have gone all the way and lift the Eurovision 2020 trophy had the event gone ahead? This is what some of us here at EuroVisionary think:
Theo – 'I was covering the Icelandic final for EuroVisionary and, despite being an evidently repackaged version of Is This Love? (their Söngvakeppnin 2017 offering), I instantly liked the song and presentation. As I had commented at the time, despite Daði og Gagnamagnið appearing as if they are not taking themselves too seriously, closer inspection implied that a lot of thinking and work must have gone into the presentation of Think About Things – this attitude would have served them well during the stiff promotional competition leading up to (and during) Rotterdam 2020, I think. Definitely one of the 3-4 favourites for me.'
Álvaro – 'A potential winner for me. Their retro sound combined with the innocent lyrics and their geek style immediately caught my attention. Such a big contrast with last year's which I also liked. I love that Iceland has gone back to the game taking the right risks. Love them!'
Giannis – 'I love the 80s sound of the song. Despite its retro style it sounds contemporary. Their routine dance, their costumes, it's so adorable. A top 5 for sure. Maybe a winner? Who knows.'
Elvir – 'I am probably among the few people who is not impressed by the Icelandic entry this year – at least not musically. I find it repetitive and dated. But Eurovision has always been about more than the song alone. Think About Things relies very much on a very clever visual story telling and, as such, it would probably have reached top 10 in the grand final.'
Michael – 'The whole package makes for a potential winner, the lyrics have a sweet message. The dance would be eye catching attracting lots of votes from viewers. The melody is passable and is by no means in the bottom half this year. Had U.K sent it we'd be laughed of the stage.'
Josef – 'When the songs were released, I was not a fan of this song at all. I listened this one only once and it was all. Then after some weeks when Think About Things became obvious favourite to win, I decided to give it another try and started to love it. Funky and catchy, with nice dance moves. Definitely one of the possible winners. I wish to see Dadi sometimes in the future coming back to Eurovision…'
Wouter – 'I've thought about it and concluded that this song is just plain awesome!'
Charlotte – 'I don't know how they do it. The song is really annoying, but yet it's intriguing to a level where I am drawn into it. At the same time as I really want to skip it, I simply can't. It's fun and serious at the same time. It's refreshing and charming – but also freaking annoying.'
Stay tuned – tomorrow, we will be discussing another entry for what would have been Rotterdam 2020!
In the meantime, you can revisit Think About Things in the following video: