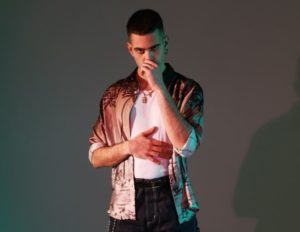 The 13th annual OGAE Poll ended with Italy winning ahead of Switzerland and the Netherlands. Does that make Italy top contender to win in Tel Aviv? We have looked at the history of this fan poll to see if the results meet the actual Eurovision results.
Every year for the last 13 years, OGAE – the biggest Eurovision fan club network is casting its votes in the poll, that choose their own Eurovision winner. This year after, all the 45 clubs voted, Italy with Mahmood and his song Soldi was declared as a winner, but it wasn't a clear race for this Italian stallion. The other two countries in the top three – second Switzerland with Luca Häni and She Got Me and third The Netherlands with Duncan Laurence and Arcade was also close to the overall victory.
Every day, when some clubs added their results to the total count, the TOP 3 countries switched places so the winner couldn't be predicted until the very last votes came in. It also worth to mention that a total of 3689 OGAE members voted in Eurovision 2019 Poll.
Italy (411 points)
Switzerland (406 points)
The Netherlands (401 points)
Italy got 12 points from 13 clubs, Switzerland got 12 points from 12 clubs and The Netherlands also from 13 countries just as the winner. The other countries with 12 points were Norway with two, and Iceland, Cyprus, Russia, Denmark, and Sweden each with one. Still, there is one interesting thing about the overall voting this year when we look at the points for the TOP 3 countries. Only Russia gave no points to the whole TOP 3 and Slovenia missed The Netherlands in its voting. Full results can be found here.
OGAE versus Eurovision result
But what about the connection between those fan voting results and the real Eurovision results? Can we make a prediction based on that? Let's check the other results of TOP 3 countries in the years 2007 to 2018.
Eurovision 2007
Serbia: Marija Šerifović – Molitva (ESC 2007 result: Winner)
Switzerland: DJ Bobo – Vampires Are Alive (ESC 2007 result: DNQ)
Belarus: Dmitry Koldun – Work Your Magic (ESC 2007 result: 6th)
Eurovision 2008
Sweden: Charlotte Perrelli – Hero (ESC 2008 result: 18th)
Switzerland: Paolo Meneguzzi – Era stupendo (ESC 2008 result: DNQ)
Serbia: Jelena Tomašević – Oro (ESC 2008 result: 6th)
Eurovision 2009
Norway: Alexander Rybak – Fairytale (ESC 2009 result: Winner)
France: Particia Kaas – Et s'il fallait le faire (ESC 2009 result: 8th)
Sweden: Malena Ernmann – La voix (ESC 2009 result: 21st)
Eurovision 2010
Denmark: Chanée & N'evergreen – In a Moment Like This (ESC 2010 result: 4th)
Israel: Harel Skaat – Milim (ESC 2010 result: 14th)
Germany: Lena – Satellite (ESC 2010 result: Winner)
Eurovision 2011
Hungary: Kati Wolf – What About My Dreams? (ESC 2011 result: 22nd)
France: Amaury Vassili – Sognu (ESC 2011 result: 15th)
United Kingdom: Blue – I Can (ESC 2011 result: 11th)
Eurovision 2012
Sweden: Loreen – Euphoria (ESC 2012 result: Winner)
Italy: Nina Zilli – L'amore è femmina (ESC 2012 result: 9th)
Iceland: Gréta Sal´me & Jónsi – Never Forget (ESC 2012 result: 20th)
Eurovision 2013
Denmark: Emmelie de Forest: Only Teardrops (ESC 2013 result: Winner)
San Marino: Valentina Monnetta – Crisalide (Vola) (ESC 2013 result: DNQ)
Norway: Margaret Berger – I Feed You My Love (ESC 2013 result: 4th)
Eurovision 2014
Sweden: Sanna Nielsen – Undo (ESC 2013 result: 3rd)
Hungary: András Kállay-Saunders – Running (ESC 2013 result: 5th)
Israel: Mei Finegold – Same Heart (ESC 2013 result: DNQ)
Eurovision 2015
Italy: Il Volo – Grande Amore (ESC 2015 result: 3rd)
Sweden: Måns Zelmerlöw – Heroes (ESC 2015 result: Winner)
Estonia: Stig Rästa & Elina Born – Goodbye to Yesterday (ESC 2015 result: 7th)
Eurovision 2016
France: Amir – J'ai cherché (ESC 2016 result: 6th)
Russia: Sergey Lazarev – You Are the Only One (ESC 2016 result: 3rd)
Australia: Dami Im – Sound of Silence (ESC 2016 result: 2nd)
Eurovision 2017
Italy: Francesco Gabbani – Occidentali's Karma (ESC 2017 result: 6th)
Belgium: Blanche – City Lights (ESC 2017 result: 4th)
Sweden: Robin Bengtssson – I Can't Go On (ESC 2017 result: 5th)
Eurovision 2018
Israel: Netta – Toy (ESC 2018 result: Winner)
France: Madame Monsieur – Mercy (ESC 2017 result: 13th)
Finland: Saara Aalto – Monsters (ESC 2017 result: 25th)
As you can see, sometimes the winners of this OGAE Poll also won the Eurovision Song Contest, but other times the biggest fan favourites stayed in the semifinal and failed to qualify. It means that we should take these results with a bit of reserve, but it can drop some hints on who may succeed. If we check also the betting odds for this year's Eurovision, all of the OGAE TOP 3 countries are in the TOP 5 according to the odds.