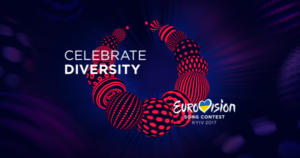 The theme art and slogan for the 2017 Eurovision Song Contest has been revealed. Ukraine will be Celebrating Diversity. They aim to produce a collaboration of culture, technology and the individual flare of 43 artists.
Finally it all seems real. The preparations for the 62nd Eurovision Song Contest are well under way. Today the theme and slogan for the competition has been released along with other key information which shows that steps are continuing to be made in the right direction.
Eurovision.tv have today stated: 'Celebrate Diversity is the central message for this year's event and is complimented by a creative logo design based around a traditional Ukrainian bead necklace known as Namysto. More than just a piece of jewellery, Namysto is a protective amulet and a symbol of beauty and health. It is made up of many different beads, each with its own design and celebrates both diversity and individuality'
"The notion of celebrating diversity builds on last year's theme of 'Come Together' and is at the heart of Eurovision values: it is all-inclusive and all about countries around Europe, and beyond, joining together to celebrate both our common ground and our unique differences, as well as some great music". Jon Ola Sand – Executive Supervisor of ESC.
Executive Producer Oleksandr Kharebin commented; "This year, artists from over 40 different countries will come to Kyiv and contribute their music and culture to the show and we will add our unique Ukrainian flavour, together creating a celebration of Diversity and an amazing and truly memorable 2017 Eurovision Song Contest".
Theme of the Eurovision Song Contest 2005
When Kyiv last hosted the Eurovision Song Contest in 2005, their theme was Awakening. This symbolised the awakening of the country and the city of Kyiv and it's readiness to present it's self to Europe and Eurovision. The postcards used in the 2005 contest showed all aspects of Ukrainian culture. From the wild mystery of the Carpathian Mountains and the Hutsul Culture in Western Ukraine, the vibrancy of the capital Kyiv, to the coal miners from the far East of Ukraine in Donetsk. Some of the postcards had even used snippets from Ruslana's music video of Знаю я (I know) which at the time was filmed with a record-breaking high budget. It is still unknown where they will draw inspiration from for the postcards for next years contest.