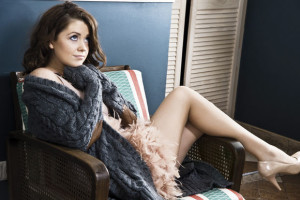 As selection qualifications come to an end, the reigning champions, Sweden, pick their song this weekend. They're not alone as further down the Baltic Sea, households are drawing their curtains, getting a good fire burning and gathering round the television, to watch Lithuania finally pick their entry too.
Also, some countries have still to present their song, so settle in and let's get these last entries revealed.
Friday March 11th
Czech Republic
After an unexpected return last year, the Czech Republic keep the fans delighted, as they have decided to show face again for Stockholm. The Czech double G, Gabriela Gunčíková will present her song I Stand at 14:00 CET today. There are high hopes that this could be the Czech Republic's first visit to the finals.
Below you can watch the highlights of the Czech Republic's last five years at Eurovision. OK, there is only one song, but hey, enjoy.
 Saturday March 12th
Serbia
First up, today, although it starts later than the two big finals, will be the presentation of the song for Serbia, as they reveal their entry, Goodbye at 21:00 CET. Serbia have a good qualification record, which continued last year with Bojana Stamenov, and Beauty Never Lies which finished tenth. Find out tonight if they have a chance of beating that this year.
Below enjoy highlights from Serbia including content, you may not have seen before.
France
France? – did you say France, the country who are sending Amir Hadadd with the song J'ai cherché, that we've been liking and enjoying the video for, for the last few weeks – that France. Well yes, that France and tonight you can act surprised when France 2 hold their song presentation show at 21:00 CET.
Until the big reveal, enjoy clips from France's past, hopefully seeing something new.
Sweden
The first sing off this weekend, the Melodifestivalen 2016 will be held on SVT, where eight direct to the final qualifiers, will compete with last weeks, another chance contestants, to see who will represent the home country.
Many familiar faces are appearing. Panetoz, David Lindgren, Oscar Zia, Ace Wilder, Molly Sandén and Samir & Viktor have all appeared in previous Melodifestivalen finals. According to the bookies Ace  Wilder started out favourite  to win, then Molly became the favourite, Wiktoria lessened the odds, and now Frans is favourite to win.
See if you agree with the Swedish public and an international jury from Australia, Belarus, Bosnia And Herzegovina, Cyprus, Estonia, France, Israel. Italy, Netherlands, Norway and Slovenia at 20:00 CET on svt.se.
During the interval, a sea of prior Melodifestivalen faces will perform a bumper package of their past entries.
The running order of the songs is:
Panetoz  – Håll om mig hårt     
Lisa Ajax – My Heart Wants Me Dead
David Lindgren – We Are Your Tomorrow
SaRaha – Kizunguzungu
Oscar Zia – Human   
Ace Wilder – Don't Worry    
Robin Bengtsson – Constellation Prize 
Molly Sandén – Youniverse
Boris René – Put Your Love on Me 
Frans – If I Were Sorry
Wiktoria – Save Me  
Samir & Viktor – Bada nakna
Below watch highlights from Sweden's last six years, the standard that this year's entry will have to reach, as they strive for their seventh win. No pressure!
LITHUANIA
So while it's assumed most people will be tuned into Sweden, these cheeky little Lithuanians have the audacity to hold their final at the same time. Dismiss at your peril, as this may be a good show too.
We are finally down to the last six, with four songs that have at one time led the scoring, and another two that have been gaining popularity as the weeks progress. Lithuania are in it to win it this year. The only issue is that the judges have seen these song so many times, what more is there left to say about them.
The final can be seen on LRT at 20:00 CET.
Aistė Pilvelytė – You Bet
Donny Montell – I've Been Waiting for This Night  
Erica Jennings – Leading Me Home 
Ieva Zasimauskaitė – Life (Not That Beautiful)  
Ruslanas Kirilkinas – In My World 
Rūta Ščiogolevaitė – United
Below you can watch highlights of Lithuania' past few entries and if you don't know them by heart by now, what have you been doing for the last nine weeks.
And that's it chaps, after these two finals have been shown, there are no more qualification rounds left, what's a Eurovision fan to do now.
Monday May 14th
Azerbaijan
Well miracles can happen, and thanks to good old Azerbaijan, there are still more songs to look forward to. Today  at 20:00 CET, Miracle will be unveiled by its singer Samra Rahimli. Azerbaijan always do well at Eurovision so Samra has a lot to live up to. Let's take a look back at last year.
Bulgaria
At the same time as Azerbaijan, BNT will be revealing the song Poli Genova will sing for Bulgaria. One of the returning contestants, Poli will be hoping that this time she can make it to the grand final. Perhaps she will be in the highlight video below.
So is that in then?
Well, no because Albania will also be revealing the English version of the song, Eneda Tarifa will be singing. Fairytale Love will be the version of Përrallë, that she will perform in Stockholm. Italy also will be disclosing what language Francesca Michielin will sing.
Finally do you remember back on that wintry day of January 24 when Ira Losco was chosen to sing Chameleon for Malta – well in the next few days, we'll find out if that's going to happen.
Let's watch Italy's highlight video to close.