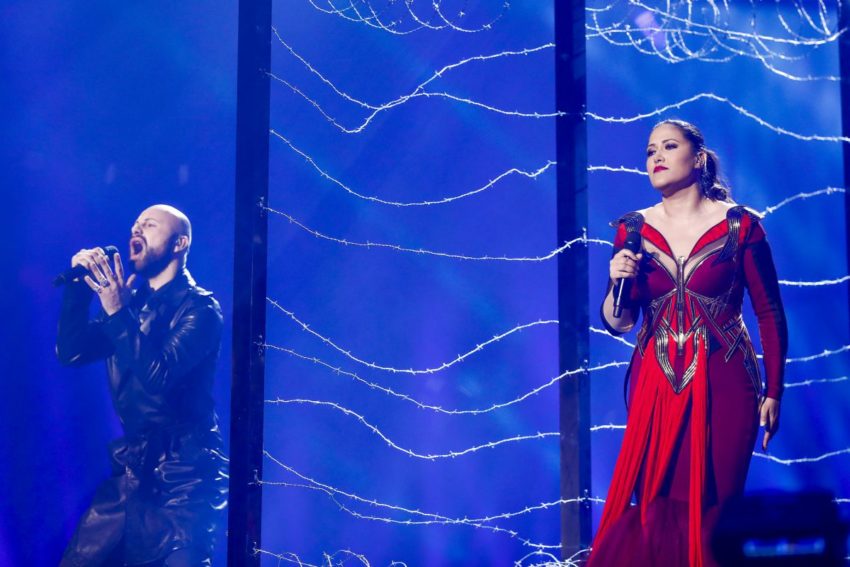 This evening the rehearsals continued with the final six countries from the first semi final which will be held in the Globen arena in Stockholm on May 10th.
The first rehearsal will come from Estonia and will close with Malta.
Estonia: Jüri Pootsmann – Play
The stage floor has two hearts which look like chocolate chip cookies. Juri is dressed in a dark blue suit with a white shirt. The mood is very somber withe no laughs as Juri stands in the middle of the stage accompanied on the choruses by unseen female backing vocalists.
Yellow spotlights are projected from the stage to add atmosphere with hints of red shining through.
Juri pulls a playing card, from his pocket, the six of diamonds, tosses it away and then miraculously pulls it out a second time. Magic.
Azerbaijan: Samra – Miracle
Oh dear, which one is it, Samra's costume looks like a white version of Armenia's or is Armenia's a black version of Azerbaijan. Either way its a white expensive bathing suit/ leotard contraption.
The stage is red broken up by streaks of yellow lighting.
Samra is joined by four backing singer/ dancers, two male, two female all dressed in gold. The vocals here are not as good as some of the other contestants but as she previously appeared to have a sore throat, they were a lot better than in the previous rehearsals.
But wait – on the second run through Samra is now wearing a full length tan cat suit, perhaps to see if something less chilly helps the vocals. The dancers are still the same but there are now some more whirling yellow lights.
On the third run through fire pyrotechnics have been added around the stage, with the falling fountain effect added.
Samra has confirmed at press conference that she is still not fully recovered from her sore throat.
Montenegro: Highway – The Real Thing
More darkness with a dancing long haired, dressed in black leather, diva who actually sings along and softens up the vocals a little, to great effect. One of the boys starts at the front while the other vocalist walks forward from a red light which stretches upwards to look like a staircase.
Of course everyone is dressed in black and there is lots of guitar and head banging.Our dancing babe continues on the satellite stage while the band thump away on the main stage. There are some added wails towards the end of the song and because its a different style, the song really stands out.
White spotlights lighten up the stage a little and there are some minor adjustments in the instrumentation.
 Iceland: Greta Salóme – Hear Them Calling
Greta started a little late but she's always worth waiting for. Dressed in a black leather jacket with the token fringes, you know the deal here. The backdrop with those taunting black figures are still after Greta as she ducks and turns to avoid their evilness. The exorcism out of the stomach is always worth watching.
A quick second reprise saw Greta in great vocal form those leather boots drawing visual attention, which is mighty hard to do considering what's going on behind her. The back wall is a more greyish blue, rather than the green from the Icelandic national final. Birds flying everywhere and not one of them getting tangled in the coats fringes. The stalking men at the end are no match for our Icelandic princess
 Bosnia and Herzegovina: Dalal & Deen feat. Ana Rucner and Jala – Ljubav Je 
What a joy to have Bosnia and Herzegovina back and with a song that practically covers all genres of music, Starting with the Balkan traditional drums and cello and then Deen and Dalal's great vocals.
Deen is dressed in a black leather coat, while Dalal is in an eye popping traditionally royal yet modern blood red dress. Cut to Ana too and she also is dressed like a modern day Joan of Arc ready for battle. Just as you relax, Jala enters all in black and  raps along to the ever angrier cello. This is another visual and sonic treat and all in the native language. Every second is filled with a moment including the yelp mid rap.
Barbed wire seem to be keeping Deen and Dalal apart, yet when Jala appears, Ana is quick to rush to the opposite side of the stage to show him she can out-cello his rapping. Wonderful.
 Malta: Ira Losco – Walk On Water
Another faultless vocal performance .It starts with a blue smoke bellowing from the back and then Ira's face is projected on to the screen while she sings to the side.In her gold and black sparkly dress, Ira walks through a gold and yellow flashing tunnel. Spotlights shine on her from above.
The Skorpion dancer dressed all in grey dances around her most of the time.The stage totally turns blue to give it a watery effect, although there are yellow fire elements on the back wall. This is a great ending to the first semi final.