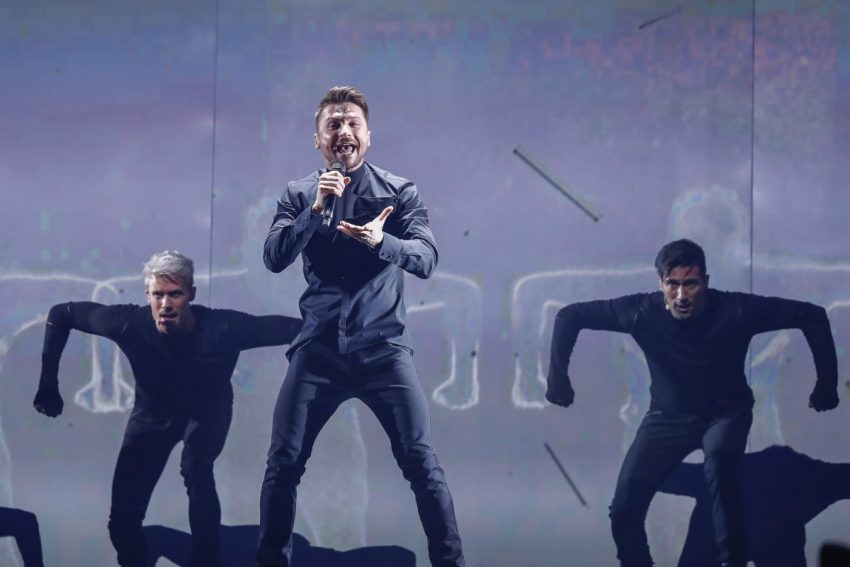 This afternoon the first semi final, second rehearsals continued for the Eurovision Song Contest 2016. The first semi final will take place on May 10th from the Globen theatre.The afternoon rehearsals commenced with Armenia.
Armenia: Iveta Mukuchyan- Lovewave
Hey it's me, and here's Iveta standing on the right of the screen, talking deep into her microphone. Dressed in what best can be described as an expensive black swimming type costume covered by a black cape, Iveta has a long wait while the fifteen second instrumental introduction takes place.
Lots of leg on show, a flashing path of lights illuminate the stage floor while Iveta continues backed by her unseen backing singers.
A slew of holograms appear of Iveta in the middle of the song and then disappear as quickly as Iveta herself, because after the first rehearsal she's gone.
San Marino: Serhat – I Didn't Know
Serhat stands centre stage dressed in a maroon jacket and trilby hat. Behind him is a raised platform where five female backing vocalists all dressed in silver dance and prance behind him.And with that Serhat was gone too.
Russia: Sergey Lazarev – You're The Only One
Sergey's rehearsal started and in under a minute he was gone. He is dressed all in black in what looks like a tight modern day prison uniform.Fortunately for all, he returned to what can only be described as a spectacular stage show. It would be a shame to spoil all that goes on. He was joined by four male backing singers, also dressed in black, who danced in formation behind him.
Standing against a backdrop screen, black wings appear behind him, first from the right and then the left. The stage has a stars in the sky type of appearance. After all the tricks and effects, a female backing singer appears while Sergey stands on top of a yellow box. A flame is held in her hand which eventually extinguishes while Sergey points the number one with his finger, looking pleased with himself, as well he should. Amazing.
Czech Republic: Gabriela Gunčíková – I Stand
No-one could follow the Russian appearance and get immediate attention except Gabriela this year. Starting with a pink flame glowing behind her, she is dressed in a classy white number with her hair in a bun.The stage opens to a mass of pink and purple boxes while Gabriela , well, stands
Eventually the boxes turn blue and Gabriela turns to the right to continue singing. The background turns blue as well and blue lights appear on the floor. Gabriela pulls the band out of her hair and lets her locks flow.
On the third run through the purple lights reflect on her dress.Towards the end of the song all of the colours blend together to give the flower effect from her promotional video. Pure class.
Cyprus: Minus One – Alter Ego
The band are all dressed in black. There are cages around the drummer and some of the other band members, but sometimes its not very clear due to the heavy use of flashing lights and that the stage is very dark.
The second rehearsal was clearer and the music was also sharper. The back drop is dark blue with the pounding lights.
There are black and white colour changes and flashes of wolves while the lead singer howls to the moon.
Austria: ZOË – Loin d'ici
The Austrian stage starts out all blue and ZOË appears in her peach coloured bridesmaid type dress. As she walks forward a yellow light can be seen in the background representing the sun. Blue floating pieces perhaps representing birds fly out from the stage as she continues to walk and a whole group of red poppies sprout.
There is a white paving on the floor guiding ZOË. Eventually the stage turns pink and trees begin to grow. The song continues with a whole mass of colour awash on stage.
This evening will see rehearsals from Estonia, Azerbaijan, Montenegro, Iceland, Bosnia and Herzegovina and Malta, plus the first run through of automatic final qualifiers France and Spain.
.