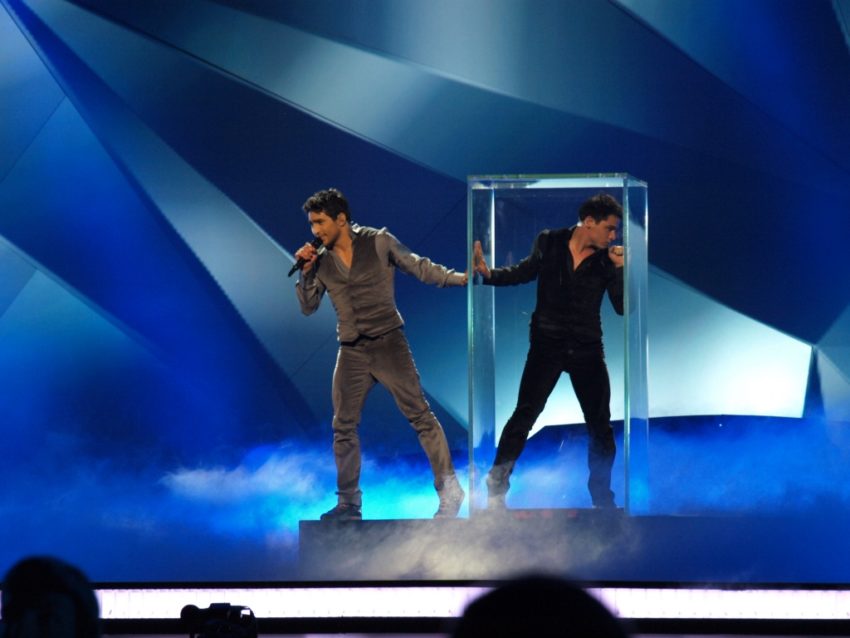 The land of fire, Azerbaijan, almost grabbed the Eurovision trophy for the second time in 2013. Farid Mammadov finished second with 'Hold Me'. Today, this entry is still loved by many fans, although the performance is interpreted in several ways.
Azerbaijani public broadcaster Ictimai TV used Milli Seçim Turu as their National Selection format in 2013. The selection procedure consisted of 8 heats and eventually the Grand Final.
70 entries were split into 8 heats. The winners of each heat competed in the grand final which was held on the 14th of March 2013 at the Buta Palace in Baku and hosted by Leyla Aliyeva and Tural Asadov. Eventually, Farid Memmedov was selected as the representative of Azerbaijan with his pop ballad Hold Me with 50% expert jury vote and 50% televote.
In Malmö, Farid first competed in the second semi-final. He took the stage 4th in line. He was accompanied by one female and one male dancer. After a remarkable performance of dance routines and a strong vocal performance, he won his semi-final with 139 votes. His performance will particularly be remembered for the dancer in a glass box, mirroring Farid's moves. In the Grand Final night, he showed the same strong performance and reached a 2nd place with 234 votes.
Hold Me – opinions from fans
In order to find out what Eurovision fans today think of this Azerbaijani entry from 2013, we asked our Eurovision Fan Panel. It includes team members as well as fans from all over the world.
🇳🇱 🇩🇰 Wouter W. – This performance always reminds me of that moment in Prince of Persia, where the hero jumps through a mirror giving rise to his evil shadow twin. And later, when Farid loosens himself from this shadow-in-a-box, can be compared to the part of the game where the prince defeats his shadow. In the end, Farid – just like the prince did, gets his princess. The song isn't bad either, and Farid's talent lifts it a bit higher yet.
🇩🇰 Charlotte C. – I like this song, I love the performance and I adore the edgy smile from Farid. At the end of the song, I am almost expecting to hear a 'How' you doing' in best Joey Tribbiani style. Really good entry from Azerbaijan.
🇬🇧 🇹🇭 John E. – Winner of its semi and second in the final this song was clearly very popular. Clever and unusual staging enhanced the performance and Farid had a strong voice. BUT I did not like the song which I did not find memorable at all, it just did not stand out for me but my view may be a minority one given the songs success in the contest.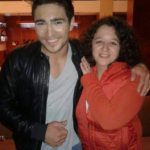 🇹🇷 Gunec G. – This is one of the best modern pop ballads from brother Azerbaijan. When we as OGAE Turkey met Farid before the contest in Istanbul, he was very excited, and he captured our hearts. I loved the stage act as well as the song itself. I wish it won….
🇨🇿 Josef S. – Farid Mammadov is a good artist and his performance of Hold Me is one of the memorable ones from 2013. He is also quite good-looking, I have to admit. But it's obvious that this song is written by an international team as I can imagine Hold Me being one of any national final entries. For example for Sweden it would not been enough, but for Azerbaijan it is really good, which is also proven by its final result.
🇳🇱 Eric O. – Ooohhh this was my favourite song in 2013! It should definitely have won! The lyrics & performance of the song are very interesting, because it seems like it's about a forbidden (read: gay) relationship, looking at the 'closeted' dancer on stage at least. That's why the sudden appearance of the lady in red was kind of odd, but it could also confirm the image (read: straight relationship) he wanted to show, while his real self stayed inside the box/closet. Anyway, this was definitely Azerbaijan's best entry ever!
🇬🇷 Christos T. – Azerbaijan took the second place in the final scoreboard although it could really win the trophy as the absolute winner thanks to its music, lyrics and certainly the performance on stage. It is very interesting to read the semiology and the meaning of the allegory. The dancer symbolises the true self of the singer who fights against himself. The box symbolises the captivating frame of the entrenched and square logic that is unable to face the feeling, when the latter comes uninvited.
🇳🇴 Steinar M. – It's not bad. But I don't think it's very good either. Nice enough, a modern pop ballad. But not very original musically. And like several Azerbaijani entries – it puts far to much attention on the show factor, compared to the song itself. My favourite in 2013 was Albania. Which certainly had the "identitet", which this song lost.
🇨🇴 🇫🇮 Alvaro S. – I find Farid's interpretation, in particular in the part where he puts himself facing his mirror image overdramatic. In general everything about this ballad is overdramatic. It is a good song but I would not put it as high as in second place. For me, this interpretation did not look natural at all, like if they were trying so hard to win the contest again.
🇬🇧 Michael O. – In my opinion one of Azerbaijan's worst though I am aware many people like this one. I just never took to it, very ordinary. Sorry.
Enjoy Farid Mammadov's performance from the 2013 Eurovision Song Contest in the embedded video. Below the video, you can read more about him.
Farid Mammadov – a mini biography
Farid Mammadov was born on the 30th of August 1991 in Baku. His father, Assiv Mammadov, is a professional judoka and rock musician. His mother, Maya Mammadova, is a silver medal winning Soviet gymnast. He has been dealing with singing and music since early ages. He has been interested in jazz music since the age of 8 and cites Stevie Wonder as his influence. He also wrote Gel Yanıma which he performed in the Milli Seçim Turu (Azerbaijani National Selection Tour). After his Eurovision success, he released a maxi single of Hold Me including the Turkish Version Dönsen.
Farid is also an athlete who is practicing Greco-Roman wrestling and Capoeira. He performed at the opening ceremony of Gold Grand Prix international wrestling tournament in 2013, and at the 1st European Games in 2015 where he sang the National Anthem of Azerbaijan with Sabina Babayeva (Azerbaijan 2012).