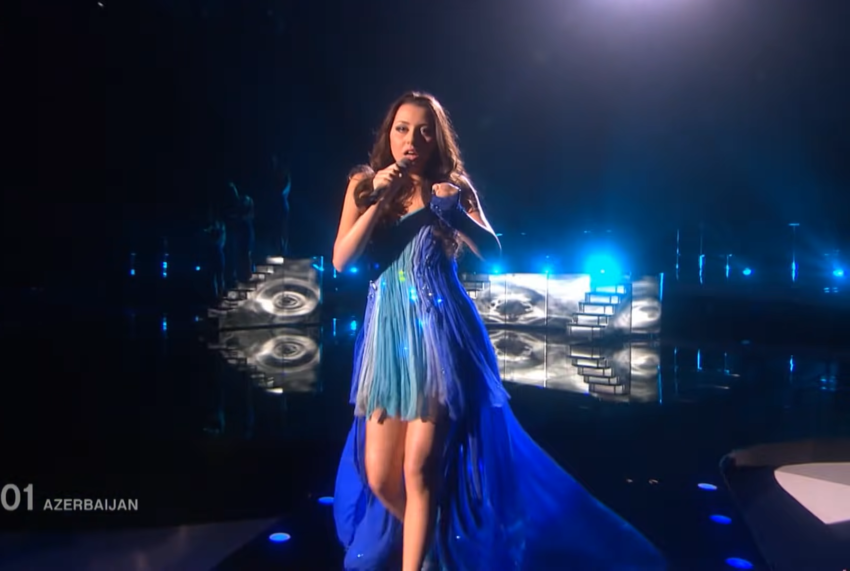 After only two entries, Azerbaijan were already proving to be a powerhouse at Eurovision. They placed 3rd in 2009, with 'Always' and hoped to go even better with Safura and 'Drip Drop' in 2010.
On February 2nd, 2010, Azerbaijanian broadcaster İctimai Televiziya və Radio Yayımları Şirkəti (İTV) broadcast the semi final of the Land Of Fire 2010 contest.
Six performers from a pool of thirty, were selected to perform in the contest. Chingiz, the Azerbaijani representative from 2019 was one of the rejected artists. Safura sang the song Soz Ver and advanced to the 2 March 2010 final. Two other acts headed to the final, Milk and Kisses, and Maryam Shabanova, but Safura won. She had sung Drip Drop in the contest, as one of the potential entries, but it wasn't until 18 March 2010, that the song was confirmed as the Azerbaijani entry.
On May 27, 2010 in Oslo, Norway, Safura placed 2nd in her semi final. She went on to open the 2010 contest, two days later, when she finished in 5th place.
Drip Drop – opinions from fans
In order to find out what Eurovision fans today think of this entry from Azerbaijan, 2010, we asked our Eurovision Fan Panel. It includes team members as well as fans from all over the world.
Michael O. – This year I had all the Caucasus countries in my top 3. Yes the verses flowed better than the chorus, as it tried to throw in the Drip Drop words, but I was sure this was going to win. Well that was until I saw the choreography where it was totally unnecessary to have Safura running around on the stage. As time has passed I still like the song, and have it as third from 2010.
Josef S. – Some may disagree with me, but Drip Drop is one of my favourite Azerbaijani entries at Eurovision ever. Exactly a type of ballad I prefer and the simplicity in staging is very good. I am glad Safura did some small and memorable choreography as I still remember it even today, almost 11 years later. I have to admit that Safura's vocals were not 100% on point but I just love her and the song itself.
Kat H. – If ever an artist has been disadvantaged by running order, it is Safura.
She opened the 2010 final show after a fantastic performance in the Semi-final with an equally brilliant display. Everything fitted together perfectly, from the lyrics of the song to the presentation – especially the Safura shuffle, which is now a staple in my dance repertoire! This is my absolute favourite Azerbaijani entry and unquestionably set the stage for Ell and Nikki's win only a year later (with a MUCH weaker song).
Alvaro S. – For me this is the usual Azerbaijan pop song and that could perfectly have been sent by Sweden. Too generic, I do not like Safura's repeating that 'Drip Drop' part in the chorus and still is one of the best entries from Azerbaijan, save 2017
Amir B. – I think it's an end of relationship ballad. The lyrics remember too much of an end of a relationship. The passion she brings is the truth about ending a relationship. I think this ballad isn't that strong from Azerbaijan, but this is good. I liked it.
Christopher D. – One of Azerbaijan's best ever songs in Eurovision. Safura was named as one of the potential winners that year, and she so deserved that title, without taking away Lena's credit. It is much better than their winning song the following year. And it is a pity we never saw her try Eurovision again.
Mihai D. – In 2010 (the year of grace with many very interesting songs !) Germany won with a very good song performed wonderfully by Lena, who became an international star. Azerbaijan presented itself with a ballad, sung by a beautiful girl, Safura, who fully deserved her very good place in the ranking. The stage presentation was conventional but ultimately the song matters. Now, Azerbaijan, a country with a musical and talented people, has had surprising presences for many years in the most pleasant way possible.
Jill R. – Most years in ESC so far, the song representing Azerbaijan has been rather good and interesting. I think Drip Drop is one of the best. It also was one of the best songs in ESC 2010. In my opinion it was only beaten by Satellite. The performance was also wonderful; Safura has a flawless and powerful voice, and she sings with both passion and variation. She has a strong presence on stage and interacts well with the marvellous dancer.
Charlotte J. – Did this really finished 5th? How? Azerbaijan have had many great songs, and they have had songs which scored way too high. The latter is, in my opinion, the case with Drip Drop. It starts out really strong promising nothing less but a fantastic song, but as soon the chorus starts, it's lost on me. It's a shame… BUT – I absolutely LOVE that dress. That's the dress I want to get married in. It's perfect.
Below you can watch Safura's performance of Drip Drop from 2010, and then read a little about her, after the video.
Safura – a brief biography
Safura Alizadeh was born on 20 September 1992. She began her singing career in her teenage years, and represented Azerbaijan before her 18th birthday. She had won the music contest Yeni Ulduz in 2009. Her debut album It's My War featured the Eurovision hit Drip, Drop and follow up, March On.
Safura had a habit of releasing one word titles, including, Paradise, Tonight, Soulless and Alive, during her career.
Safura parted ways with her record company, but featured in a 2016 video advertising capital city Baku, portraying its tourist sites and friendly population.
At the age of 20, Safura got married to Farhad Aliyev, whose father was a major politician in the New Azerbaijan Party which formed in 1992, Safura's birth year. After marrying she too joined the party. Her father-in-law died in 2017. Safura and Farhad have two sons and a daughter. She seems to have given up on her singing career.