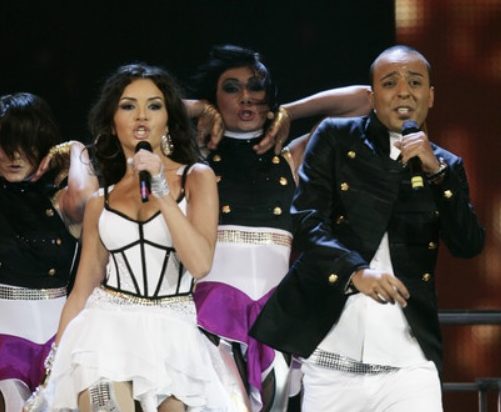 With 12 appearances, 11 of them qualifying to the final and six of them finishing in top 10, Azerbaijan has been quite successful at the Eurovision Song Contest. Their 2009 participation is no exception as it finished 3rd. Many Eurovision fans still love this entry.

In 2009, local broadcaster Ictimai TV intended to hold a national final as they did in 2008. However, as the quality of the entries submitted were found poor, on the 17th of January 2009, 19 year old Aysel Teymurzade was selected initially by the broadcaster to represent Azerbaijan in the Eurovision Song Contest's 2009 edition.
The selection was made by a seven member jury appointed by ITV. On the 5th of February 2009, among 30 presented songs, the highly energetic uptempo piece spiced up with ethnic instruments Always was chosen and announced to represent the land of fire in Moscow. The author of the song Arash (famous Iranian -Swedish musician) was later invited to perform on stage along with Aysel.
Before heading to Moscow, the team visited Slovenia, Romania and Sweden as a part of their promo tour. Always was considered a top 5 by the bookies, who ended up being right. The duo first competed in the second semi-final on the 14th of May 2009 and placed 2nd with 180 points. In the grand final which was held on the 16th of May 2009, they took the stage 11th in the line-up. At the end of the show they finished 3rd with 207 votes.
Always – Opinions from fans
In order to find out what Eurovision fans today think of this Azerbaijani entry from 2009, we asked our Eurovision Fan Panel. It includes team members as well as fans from all over the world.
🇫🇮 🇨🇴 Alvaro S. – This song has the perfect recipe for a festival song: a catchy chorus, traditional instruments and a music background that transports me to a tropical, sunny place and of course the dresses, dances and the fire. A song with a simple chorus but at the same time very memorable.
🇩🇰 Charlotte J. – I like this one. It's catchy and well performed. Towards the end, I do think it gets a bit too repetitive. But I still enjoy listening to it. Higher than a medium grade, but not top of the creme either, so I will give it 7/10.
🇩🇪 Pascal W. – One of the songs you have to know even if you didn't watch Eurovision in 2009. I really like the oriental parts of the song. I love the chorus, but the verses are a bit too weak compared to the strong chorus. Overall, it's a very good song and one of my favourite entries from Azerbaijan.
🇬🇧 Michael O. – Wow for only their second entry Azerbaijan came up with a good one. What a pity they didn't save it for 2011 and they could have won. Still excellent today.
🇩🇰 Tina M. – The song Always from Azerbaijan that participated at Eurovision in 2009 is a combination of Eastern and Western European pop music. The song does well on stage, but the vocals are very weak in the live version – on the CD there is a bit of mixing with the technique so the voices sound a little better. Not much happens in the song and the chorus is repeated again and again – and again. Azerbaijan has brought great and beautiful songs to Eurovision, this is not one of them and I really do not understand how this song ended up as the runner up after Norway- 3/10
🇦🇺 Craig M. – This song stood out in 2009, and still sounds good today. While it's not a song I have on my playlist, whenever I hear it, I let it play through. A good entry from Azerbaijan, it ended up finishing 3rd behind Iceland and of course the big Eurovision classic, Fairytale by Alexander Rybak.
🇬🇧 Ashleigh K. – This was one of my favourites in 2009 and it's played a lot on one of the Ukrainian radio stations that I listen to so I hear this song quite often. It's still a great Eurovision song despite it sounding a little dated now. Azerbaijan and ethnic song elements go so well together.. I'd like to see them bring more of this to the Eurovision Song Contest stage.
🇹🇷 Gunec G. – I find Azerbaijan's music very close to my taste. I love the sound of tar played by Arash. When I first saw the demo video of this song I was extremely excited and I knew it would do well. The team gave us the full energy during their live performances.
🇲🇹 Christopher D. – That year I think Azerbaijan was the dark horse of the contest. Their performance and energy on stage complemented their song and their third place was really unexpected prior to the actual contest. Personally I have other Azerbaijan representatives that are my favourites, but I would not have minded seeing Aysel and Arash giving it another try together for their home country.
🇳🇱 Jacques H. – Since its first participation back in 2008, Azerbaijan has always performed quite well, like winning in 2011 and ending as first runner-up in 2013. Only in 2018 Aisel failed to qualify and Dilara's 22nd position in the finals in 2014 wasn't too good either. Better did one-off duo Aysel Teymurzadə and Swedish Iranian Arash Labaf in 2009. Their relatively bleak Always finished third, behind Iceland and winner Norway. Nobody had a chance behind Alexander Rybak's Fairytale, who won with a record amount of points. To me, it is a surprise Always did so well. As it did surprise so many others. Allegations of vote stacking followed right after the contest, claiming Belarusian students were paid to vote for Azerbaijan. It is an okay song, but a third place is somewhat questionable. Buying votes or not…
Enjoy Aysel and Arash's performance from the 2009 Eurovision Song Contest in the embedded video. Below the video, you can read more about Aysel and Arash.
A Mini Biography to Aysel and Arash
Arash is a very popular Iranian – Swedish musician. He was born on the 23rd of April 1977 in Tehran, Iran. When Arash was 10 years old, he and his family moved to Sweden. He released his first album Arash in 2005. He made duets with stars like Helena, Sean Paul, Snoop Dog and Mohombi.
Aysel was born on the 25th of April 1989 in Baku. She lived in the U.S.A. and graduated from the Texas High School. Young Aysel was discovered by the jury of the talent show "Yeni Ulduz". At the age of 19, she was internally selected to represent her country in the Eurovision Song Contest 2009. She is currently married to the famous pianist Murad Adıgözelzade.