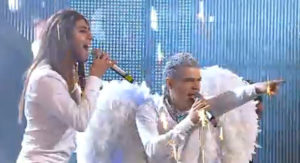 Azerbaijan's Eurovision debut from 2008 by Elnur Hüseynov and Samir Javadzadeh is anything but ordinary. It plays on angels and demons and is quite theatrical. Some Eurovision fans love this, others are unable to appreciate it.
The Azerbaijan national final show featured three Eurovision winners, Sertab Erener (2003), Ruslana (2004) and Maria Serifovic (2007). The show was also broadcast on Turkish, Georgian and Lithuanian televisions.
The 6 finalist entries were performed by Unformal (a group including Dilara Kazimova, Azerbaijan 2014), Elnur Hüseynov (Elnur participated with two entries) and Aynur İsgandarli. Eventually, a 15 member expert jury selected Elnur to represent the land of fire for the first time ever in the Eurovision Song Contest with Day After Day.
After the selection, ITV decided that Day After Day should be performed as a duet and chose Samir Javadzadeh to join Elnur Hüseynov on stage. Although it was Elnur's option to reject this choice, the duo agreed to perform together on the Eurovision stage.
In Belgrade, Elnur and Samir took the stage in the first semi-final as 7th in the running order to perform their theatrical rock – pop song with strong and unique vocals. They received a total of 96 points which made them 6th thus gave them the ticket to the final. In the Eurovision final, the guys performed their song 20th in running order and received 132 points which matched an 8th place.
Day After Day – opinions from fans
In order to find out what Eurovision fans today think of this Azerbaijani entry from 2008, we asked our Eurovision Fan Panel. It includes team members as well as fans from all over the world.
🇬🇧 🇹🇭 John E. – An 8th place finish, not a bad result for Azerbaijan's debut entry. Certainly theatrical and memorable. While not a personal favourite, I appreciated the song for its originality and staging. Eurovision needs songs like this that break out beyond the normal expected genres. I wish more countries would take risks with their entries and further diversify the music styles shared in Eurovision!
🇪🇸 Mária P. – The debut of Azerbaijan didn't enthral me, it rather seemed to me quite a strange entry. I admit the voices are great, but that is all. I don't quite like that kind of songs with too much yelling, nor those staging with too much disguising and theatre. All was so shrill. Their placing in the top 10 was excessive in my opinion.
🇹🇷 Gunec G. – This was really shaking. People have very different opinions while it made me feel very excited and energetic. I think they have performed art on stage. It was like a classy Broadway act on ESC stage. Not to mention the flawless two vocal acts. Well done land of fire.
🇮🇱 Adi S. – This is an example of a great song with talented performers, where the over-the-top clothes and staging totally killed it for me. I don't understand why they did this – it looks like a Eurovision parody.
🇨🇿 Josef S. – This is too much for me. Too quirky and "Eurovision-esque" cliche. I like the idea of angel vs devil in the staging and two different styles in one song. But I don't like it in this case.
🇩🇰 Charlotte J. – I love the chorus. That is really strong. But aside from that, this song is too theatrical for me. Azerbaijan and Ukraine are for me two countries that often is on the line of being 'too much' and sometimes they cross that line. For me, Azerbaijan did that in 2008. I get what they are trying to achieve, but it didn't work for me. It's a shame as musically, the chorus is strong.
🇧🇷 Amir B. – I love Day After Day. A song with a crazy staging (I loved), the angels, the vocals are great. Everything in the song is good. I prefer the other Eurovision song from Elnur Huseynov (Hour Of The Wolf, 2015) but Day After Day is my 2nd favourite Azeri entry. This trash metal with the staging is a great combination. I love this song, but my 2008 winner is right behind (Israel). I think that this song is in a good place.
🇨🇴 🇫🇮 Alvaro S. – Although Azerbaijan had a very good result I cannot help but laugh with the angel/devil costumes. It is so corny and so larger than life that at some points it looks like a joke. It is so… over the top!
🇬🇧 Michael O. – This was a reasonable if offbeat debut. Quite noisy in places, but still a good start from a country that hasn't sent a terrible entry yet.
🇳🇴 Stine F. – To me this song is a huge cliché. I don't like it at all, and I actually get a bit irritated just listening to it. I don't like the staging either. Although I can appreciate the message, the contrast is just too obvious. I'm sorry, Azerbaijan, I guess it just wasn't my cup of tea.
Enjoy Elnur & Samir's performance from the 2008 Eurovision Song Contest in the embedded video. Below the video, you can read more about them.
Elnur Hüseynov – a mini biography
Elnur was born on the 3rd of March 1987 in Ashkabat Turkmenistan to Azerbaijani parents. His father was a military man and his mother was a music theory specialist. He started learning to play he piano at the age of 5. In 1999, the family moved to Baku Azerbaijan where Elnur studied in Medical school and achieved a degree in Dentistry. He also studied music in Asaf Zeynally Music College and graduated in 2004. Later Elnur joined the Azerbaijan State Opera and Ballet Theatre and the choir of Azerbaijan State Philarmonic Society. He represented Azerbaijan in Eurovision Song Contest twice, both in 2008 and 2015. In 2014, Elnur Hüseynov won O Ses Türkiye (The Voice of Turkey) and made great fame in Turkey.
Samir Javadzadeh – a mini biography
Samir was born on the 16th of April 1980 in Baku Azerbaijan. He originally made his major in business in 2002. Following that he finished his five-year musical education specialising in mugham. After serving one year in the army, he joined the pop band Sheron. Following his three years in the band, he continued his career as a solo artist.
Elnur and Samir represented Azerbaijan together at the Eurovision Song Contest in 2008 with the song Day After Day whiched earned them an 8th place. This was the country's Eurovision debut.