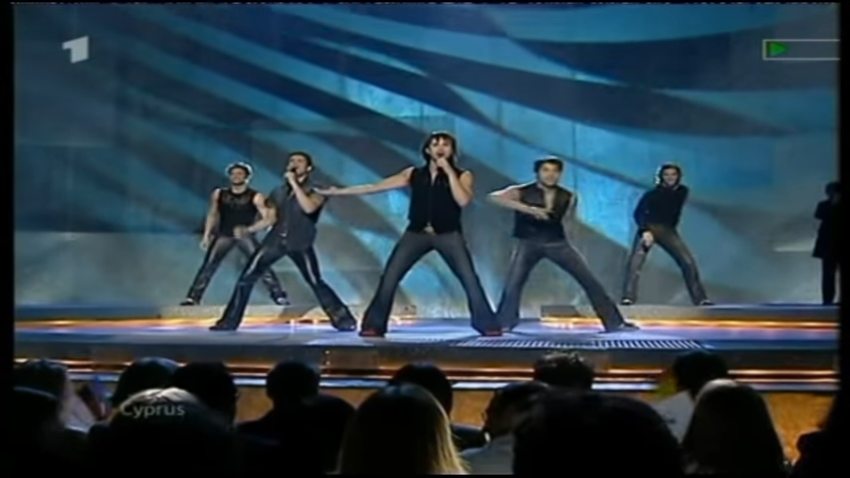 A sixth place at the Eurovision Song Contest, that was what the boyband One scored in 2002. They delivered a catchy pop song, which still today has its audience… and lack of it, unfortunately too.

The Cypriot broadcaster CyBC asked songwriter Giorgos Theophanous to write their 2002 Eurovision Song Contest. He was given free hands to pick the artist himself, and he picked boyband One.
2002 was before the introduction of semi-finals to the Eurovision Song Contest. 24 countries took part. This was top 17 from the 2001 contest + the 7 worst scoring countries in 2000. The latter hadn't been allowed to participate in 2001 due to the poor 2000 result.
At the Eurovision Song Contest, One secured themselves a good 6th place. This was the best Cypriot result since their 5th place in 1997. One received a total of 85 points which were awarded by 14 different countries. Two countries; Greece and Malta gave them their 12 points, while they received 10 from Croatia.
Gimme – opinions from fans
In order to find out what Eurovision fans today think of this Cypriot entry from 2002, we asked our Eurovision Fan Panel. It includes team members as well as fans from all over the world.
🇬🇧 Paul G. – WOW 19 years ago. The song is still a belter and I was really pleased to see Cyprus in the Top 10 again!
🇳🇴 Robert I. – This is a mediocre song. This boyband has an over the top choreography with an exaggerated masculinity. I find the strange arm movements and spreading of their legs just weird, and it draws my attention away from the song itself.
🇩🇰 Charlotte J. – A catchy pop song that was well performed by a boyband. Several of the guys were rather good-looking too, so what's not to like? Maybe exactly that it was too boyband style. I really do like the song, but I was never a boyband fan. I think I would have enjoyed it even more had Constantinos Christoforou sung it solo.
🇨🇿 Josef S. – I grew up on boybands in 90s and early 00s, so it's no surprise I love Gimme by One. This is something I am really, really loving. Their dance, the song itself, quite well sung to be honest. Definitely something that would not work today, but in 2002 it was a perfect choice.
🇷🇸 Milosav T. – Uff…. Once in a while, a song appears that is so bad that it's actually good. Unfortunately, this isn't one of those songs. The song itself is quite catchy, but the singing, dancing, pronunciation, styling (especially of the main/only singing member) are absolutely dreadful. Only in a mediocre year like 2002 could this achieve a 6th place. In my country, one is the worst grade you can get in a school, and that's exactly what this deserves! So glad Cyprus is doing much better lately!
🇬🇧 Michael O. – The boys up against 5 powerful ladies that year, which is why it came 6th. Perfect draw that this catchy dance song was on first, and opened the show. Good enough and finished exactly where it should have.
🇨🇴 🇫🇮 Alvaro S. – I find the verses of this song rather weak and that the whole performance rely on the charisma of the members of this boy band. That is enough to attract some votes from part of the fans, but it will not bring you far if that is all you have to offer.
🇬🇷 Kostas C. – A catchy song definitely, but very cheap from the other side, with poor lyrics in addition. Moreover, I do not like the main singer. I find his voice annoying and without having star quality. The appearance even for 2002 was too basic and quite dark. I was really surprised about the good result, which I explain as being due to the many bad songs from the other countries.
🇹🇷 Gunec G. – A good Europop song from a good boyband. The boys did their best on stage. However, I think it's not the best of Cyprus.
🇬🇧 🇬🇷 Melanie G. – I absolutely love the energy. Musically not one of the best entries but still very upbeat and a lot of different styles. Not one of my favourites but still a happy tune that has a summer feel to it.
Enjoy One's performance from the 2002 Eurovision Song Contest in the embedded video. Below the video, you can read more about them.
One – a mini biography
The Cypriot-Greek boyband was formed in 1999. The band split up in 2005, but was reunited in 2019. Initially Constantinos Christoforou and Philippos Constantinos was on board. An audition then picked Demetres Koutsavlakis, Argyris Nastopoulos and Panos Tserpes as members too. In total 179 singers were up for audition.
In 2003, Christoforou went solo. He was replaced by Demos Beke. Christoforou had already solo represented Cyprus at the 1996 Eurovision Song Contest with the song Mono Yia Mas. As a part of One, he returned to the contest in 2002 where the band finished 6th with Gimme. After he went solo, we saw his third participation in 2005. This time again solo with the song Ela Ela (Come Baby).
Throughout their career the band released several singles and albums and sold quite well. They appeared as a one-time reunion for the Greek national final in 2015. But in 2019, they officially got back together and their latest single Billy Bam Bam was released in February 2020.