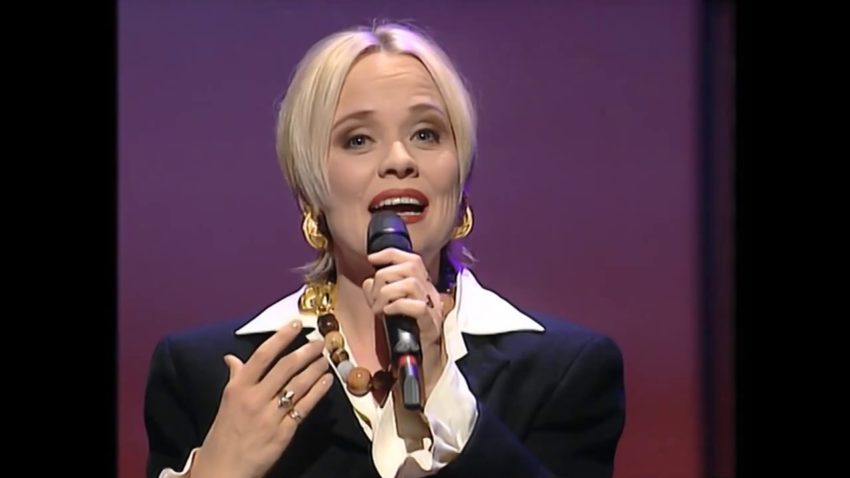 1994 is the year that Eurovision was thrown into International consciousness, yet not for any of the entries or the voting but for the interval act. Riverdance became a major international hit on the back of the contest, yet many songs have been forgotten because of that and one gem is Sigga's Nætur.
1994 saw Sigga take to the Eurovision stage for the fourth time in five years, but what is interesting about this appearance amongst her others, is that she was not originally supposed to be there. Nætur won the Icelandic National Final sung originally by Sigrun, her sister with a different arrangement.  Icelandic Television officials believed that the original arrangement would not fair well at the contest and gave the task of rearranging the song to Conductor Frank McNamara, a job he would replicate for them the following year when again the contest was held in Dublin.
Nætur is a love song, Sigga sings about being with the person she loves in her dreams at night, even if in reality they will never be together.  This marked her last appearance at the contest and subsequently her lowest placed entry as a main performer, it received 49 points and came in 12th place on the night.
Nætur – opinions from fans
To get an idea of what contest fans think of this Icelandic entry we asked some of our team as well as our dedicate fan panel for their opinions below:
John D.
This was a strong entry from Sigga for Iceland. She sung it beautifully in Icelandic and the interpretation by the orchestra was excellent. Like Sigga's other two entries for Iceland it deserved more marks.
 Kat H.
Let me start by saying, I LOVE Iceland in Eurovision. They can do no wrong in my eyes. I still cry over the fact that they haven't won yet. Representing a country over three times is a honour reserved for only the most special Eurovision contestants (notably Valentina Monetta) and Sigga was part of Iceland's three best finishes before 1999 when Selma was criminally robbed. Considering her sister was the original vocalist on Nætur, Sigga did a passable job of trying to dislodge Ireland from their Eurovision throne, however the song was too weak and ultimately forgettable as Ireland romped home for the third win of their four in the 90's.
Alvaro S.
I like how the scenario with these urban buildings as a background fit perfectly with this ballad from the 90s. The vocals are on point and the backing vocals give it a "gospel feeling", specially for the last verses of the song. However, my overall impression of this song is that it was a bland attempt from Iceland. In other words, it sounds good but it did not impress me.
Michael O.
I love this song, a bit like Michael Jackson's Human Nature in places. Sigga is such a good singer, and this song sounds good through the day but is even better listened to in the dark. Deserved to do so much better.
Josef S.
I usually love Icelandic songs and I am a big fan of Icelandic language at Eurovision. So this a little bit mystical ballad mixed with the style of 90's pop music and Icelandic language make up together really good Eurovision song. Sigga is a powerful singer so it helps the overall performance. 12th place is a well deserved position. I think I will add it on my Eurovision playlist.
Charlotte J.
I had forgotten about this one. Thanks for reminding me! It's actually really good. How could I forget it? Anyway, I really like it. It's quite a strong entry performed by a vocally strong singer. Had I heard the studio version first before watching the video, I would probably have been a little confused though. This charming business woman is quite different from what I would have expected based on the song.
Amir B.
Sigga has great vocals, one of most beautiful vocals I listened in the Eurovision history. I love when Iceland send a ballad and this song is such a beautiful ballad. The emotion and happiness in the presentation is contagious and makes you happy with her. Nætur is an authentic Icelandic ballad.
Michael R.
It's a pleasant song, sung well by an experienced singer, the only problem is it simply plods along and doesn't seem to go anywhere. I keep waiting for that big wow moment that never comes.
Ashleigh K.
A lovely vocal performance from Sigga from Iceland. Maybe had I listened to this song in 1994 I would like it more but with my 2020 eyes and ears it sounds and looks a little unremarkable. Perhaps I have been spoiled by dramatic staging and singing styles and it's caused me to not appreciate these older entries as much as I should.
William S.
Sigga's professionalism and ease in her performance style is what brings this song to the forefront of my mind every time i think of the 1994 contest. This lullaby style ballad is beautifully sung and while I enjoy the original arrangement of the song, this is the version that made me fall in love with it. Nætur deserved so much more than its final placing and points tally.
Find out more about Sigga's career under this video of her live Eurovision performance.
Sigga – mini biography
Born July 26, 1962 in Reykjavik, Sigríður Beinteinsdóttir better known as Sigga represent Iceland in the Eurovision song contest on four separate occasions from 1990-94.  She was a backing Singer for Stefán and Eyfi in 1991 with their song Nina.  
In 1990 she represent Iceland as part of the band Stjórnin were they achieved the best Icelandic result to date 4th place with their song Eitt Lag Enn. For almost a decade this was the best result by an Icelandic act until Selma reached second place in Jerusalem, 1999.
She returned to the contest in 1992, this time as part of the band Heart2Heart and their uptempo song Nei eða já which finished 7th in Malmo with 80 points.
Other than her solo singing career Sigga was a judge on the first two series of the Icelandic version of Pop Idol, Idol stjörnuleit. More recently she was seen in 2013 providing her knowledge and interest in that years Eurovision Song Contest entries on the show Alla leið.