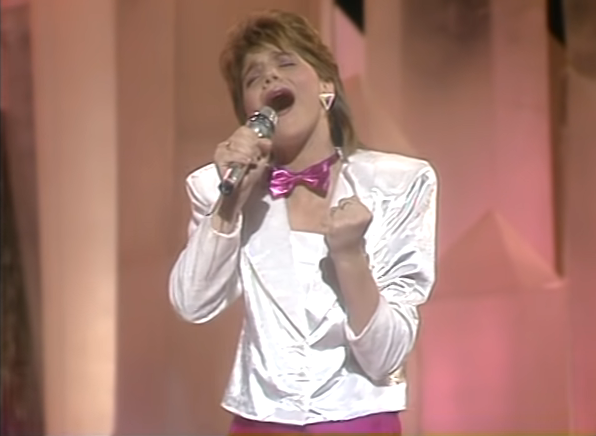 Throughout their 63 participations, Belgium have had several succesful entries. However, their only victory was brought by a 13-year-old little girl named Sandra Kim in 1986 with the literally lively song 'J'ame La Vie'. This song is a Eurovision classic.
In 1986, like in every even numbered year, the Belgian Waloon broadcaster RTBF was assigned to organise the national selection for Eurovision Song Contest. Thus, all the entries were in French. The National Final was held on the 2nd of March 1986 at the RTBF TV studios in Brussels.  An uptempo lively Europop song J'aime La Vie performed by Sandra Kim won the national final among its 8 opponents. The votes for J'aime La Vie came 50% from 12 music experts and 50% from 500 randomly selected Belgians. The song was composed by Jean Paul Furnémont and Angelo Crisci and the lyrics were written by Rosario Marino.
In Bergen, Norway, 13-year-old Sandra took the stage 13th in line. After her lively and energetic performance, she received 176 points for her country and won the Eurovision Song Contest 1986. The Swiss delegation petitioned the song to be disqualified after Sandra's age was revealed. The lyrics had presented her as being 15 years old. However, the petition ended up failing, and Sandra Kim was announced the winner of Eurovision Song Contest 1986.
J'aime La Vie – opinions from fans
In order to find out what Eurovision fans today think of this Belgian entry from 1986, we asked our Eurovision Fan Panel. It includes team members as well as fans from all over the world.
🇩🇰 Charlotte J. – Sandra Kim who will forever hold the record as the youngest winner ever… It's a good song and vocally, she delivers it well from a 13-year-old girl. I actually prefer how Sandra Kim sings it now though, where she is more mature and experienced. But it's a good, catchy song and I understand why it won – though 1986 had a few other songs, which I personally would rate higher.
🇳🇴 Stine F. – J'aime La Vie is such a happy and vibrant song. A true Eurovision classic that I still listen to. Sandra Kim also kind of reminds me of a young Carola, which isn't a bad thing at all.
🇬🇧 Michael O. – Even whatever her age was at the time, this was a novelty because of it, and as the tune was passable, it did better than it deserved. Average, there were many better songs that year.
🇹🇷 Gunec G. – I love this lively, catchy, vibrant song coming back from my early youth. Sandra had such a star energy on stage. That year, I was finishing secondary school and I insisted on wearing the same outfit as Sandra to my prom and I actually had it tailored and wore it 🙂 Lovely days…
🇨🇿 Josef S. – This is an iconic Eurovision performance. Sandra Kim is vocally on point which is quite difficult in such a song. Taking into consideration that she is dancing all the time throughout her performance, it's wonderful. I like the song as it makes me want to dance a little every time I hear it. So sweet, this paid out, Belgium! 👍
🇩🇰 Alberte B. – It's such a high-energy song. Super catchy and fun to listen to. Sandra Kim does such a great job. It's no wonder the song won.
🇲🇹 Amira M. – The 1986 entry for Belgium is a pleasant upbeat song with a good performance and the backing vocalists were on point. Also, Sandra Kim has a great voice too.
🇫🇮 🇨🇴 Alvaro S. – I remember when I first watched the winning performance from Sandra Kim, and I was like, was she really 13? She looked like a grown up woman. Maybe it is because of the fashion style and make-up from the 80s. Anyway, J'aime La Vie brings this optimistic atmosphere that is contagious and sweet. I can understand why it won.
🇦🇺 Michael R. – A true Eurovision classic, Sandra Kim's youthful energy breathes life into this lively song the way it requires. You can't help but sing along when you hear it.
🇷🇴 Doina A. – Quite a winner! The whole song is so enjoyable. Just like a spring rain, the melodic line, the lyrics, her appearance… The song itself speaks about the joy of life, of youth, love! So, listening to this Belgian entry is like remembering my childhood.
Enjoy Sandra Kim's performance from the 1986 Eurovision Song Contest in the embedded video. Below the video, you can read more about her.
Sandra Kim – a mini biography
Sandra Caldarone a.k.a Sandra Kim was born on the 15th of October 1972 in Montegnée, near Liège.
At the age of seven, she started singing, was discovered at the age of 11 – and 13 years old, she took part in the L'ambrogino d'oro music festival in Milan, Italy as part of the group Musiclub. Just a few months later, she won the Belgian national final and was to represent the country at the 1986 Eurovision Song Contest. With the lively catchy song J'aime La Vie, and a youthful charm, she won the contest, at the age of 13 years and 7 months!
Over the years, Sandra Kim has become a household name. She is still active, and in 2020, she took part in the TV show The Masked Singer, and she released the single Who Are You. It did reach the charts as #47, but staid only one week. Two years prior, in 2018, she also wrote an autobiography titled 'Sandra Kim – had ik het geweten' (Sandra Kim – If I had known'.
J'aime La Vie is a Eurovision classic, and Sandra Kim is not afraid to show up at various Eurovision parties to sing the song.