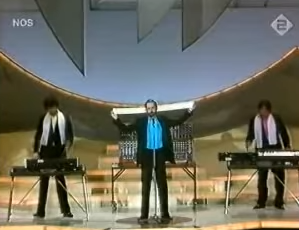 Whether it was the first 'joke' song in Eurovision, the Belgium entry from 1980 stands out. 'Euro-Vision' is a song which many fans enjoy as pure enjoyable entertaining, while others think this is a step too far.
It was the first song in the history of the Eurovision Song Contest that mention the contest by name in it's lyrics. Maybe it was also the first so-called 'joke entry'? 40 years later, this song is still well remembered.
Held at the broadcaster RTBF's studios, a small national selection was held to select the 1980 Belgium entry. The electric synth pop entry Euro-Vision was selected as the winner by an expert jury. Question was now, would an international jury too see what the Belgian one did in this entry? Or would they fulfil the bands intentions to finish last at the Eurovision Song Contest?
Telex might have aimed for a last place, but they didn't manage. With 10 points from Portugal, three from Greece and one from United Kingdom, Belgium finished with 14 points third to last.
Euro-Vision – opinions from fans
In order to find out what Eurovision fans today think of this Belgian entry from 1980, we asked our Eurovision Fan Panel. It includes team members as well as fans from all over the world.
🇨🇴 🇫🇮 Alvaro S. – Can we consider Belgium 1980 the first troll song? Nevertheless, it is the first self-reference song. And it is genius! How not to love it? It is so nerdy and so hipster before hipster even existed! Even if Telex pretended to came last it deserved a much higher place. It is entertaining.
🇬🇧 Michael O. – At the time I thought this was really quite good and fitted in with the electronic sounds that were such a rage in the early eighties. History seems to record it as a bit of a novelty entry, but I actually still quite like it.
🇧🇪 Enis H. – If I'm not mistaken this is one of the first joke entries which I like, for me personally its nothing special, though the instrumental is catchy. I also love the choreography with the scarves, glitter and camera. For me the best part of the song is the eurovision tune outro.
🇨🇿 Josef Š. – Meh, where to start? I know that the 70's and 80's were the era of disco, but definitely not like that. This is exactly the type of fun songs I hate. It is very similar like We Are The Winners of Eurovision from Lithuania in 2006. If Telex Euro Vision should be defined by one word, I would go with – embarrassing.
🇩🇰 Charlotte J. – This is a guilty pleasure of mine. One of those songs, which I shouldn't like, but yet I do. Born in 1976, I grew up with the synthesisers as the sound image of my childhood. Telex's Euro-Vision represents that 1980's sound really well – and it's furthermore quite entertaining. I enjoyed it in the 1980's, and I still do. Yes, musically I am able to tell now that this isn't exactly a masterpiece, but so what? Sometimes, it's ok just to relax, let go of all our grown up ideas about how music should be – and just simply enjoy a kitsch entry too.
🇬🇧 Aaron S. – Watching this entry, you can tell Telex hoped to finish last with Euro-Vision, the awful dancing at the start made me want to turn it off straight away, but there's just something likeable as the song goes on, the Euro-Vision seems to make me smile. It still is obvious that they weren't trying to win, interestingly the only country that year to go without a conductor, but the song still isn't too bad but it just is rather forgettable even though it was the last song on the night.
🇭🇺 Vangelis M. – Belgium in 1980 was surely not my cup of tea again. It sounds like a troll entry to me in contrast with the songs Belgium has lately sent to the contest. I do not like the outfit of the singer, it reminds me of my maths teacher! It's a no from me with love.
🇬🇧  Ashleigh K. – It's not a bad song. But it looks to me like the band didn't turn up to perform at the school disco so the geography teacher decided to jump on stage and give it a go. It's oddly entertaining.
🇩🇰  Alberte B. – It's a fun entry. The lead singer seems to have problems with his pitch, but the harmonies with the other band members are nice. I get that this is a joke entry, but I kinda like it. The piano is very funky too 🙂
🇳🇴 Steinar M. – Belgium sometimes has great, original entries. And this was really something special. They were early on with following the newest synthpop trend, and a pure electronica track was really daring and unique for Eurovision back then. Even these days, Telex are legends at the electronica scene
I think this is really an interesting, great, innovative and impressive song. Maybe some people would say it's too "ironical" / "tongue in cheek" with that performance. And maybe the lyrics. But I think it works. It is a respectful tribute to Eurovision, way more than satire or parody.
I generally liked the synthpop style back then, this is a great example of it. With a cool "riff" throughout the song.
Enjoy Telex's performance from the 1980 Eurovision Song Contest in the embedded video. Below the video, you can read more about them.
Telex – a mini biography
In 1978, Marc Moulin, Dan Lacksman and Michel Moers formed the Belgian band Telex. Focus was on creating European music that didn't involved a guitar – and that they managed. Electronic music became their way to success. The debut album Looking For Saint Tropez was released in 1979. From that, in particular Moskow Diskow became a hit reaching #36 on Billboard Hot Dance Club Songs.
The second album from Telex came in 1980. It was titled Neurovision and of course included their Eurovision entry Euro-Vision with which they had finished 14th (out of 17) at the Eurovision Song Contest the same year. The band wasn't quite pleased with that as they later spoke out that they were hoping to come in last!
Telex was active up until 1989. In 2006, they returned with the album How Do You Dance. In 2008, Marc Moulin died of cancer, 66 years old. This meant a permanent stop to the band. As a farewell the compilation Ultimate Best Of was released, and the band buried with Marc.