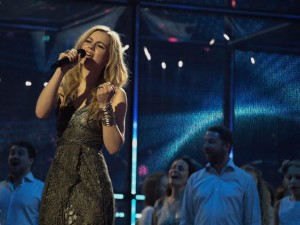 She is one of the songwriters on the song, and today she also released her own version of it. The 2013 Danish Eurovision winner Emmelie de Forest has recorded Never Give Up On You, which is the UK entry for the 2017 contest.
At the Eurovision Song Contest in Kyiv, Ukraine next month, Lucie Jones will represent the United Kingdom with the song Never Give Up On You. One of the songwriters behind it are Danish Emmelie de Forest who won the 2013 contest with the song Only Teardrops. For those who have asked yourself how this year's UK entry had Emmelie sang it, the answer is here now.
In the video below you can hear Emmelie's version of Never Give Up On You, recorded from her own walk-in closet!