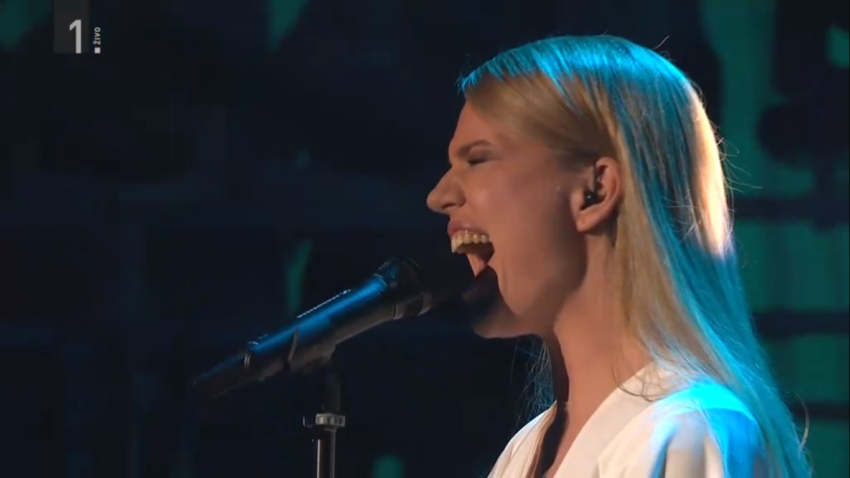 Slovenia decided! It's up to Ana Soklič to try bring the country honour in Rotterdam, the Netherlands in a few months. With a 7th place as best result, Slovenia is hoping to crawl higher up the scoreboard this year.
Evrovizijska Melodija (EMA) took place tonight featuring 12 acts hoping to be crowned the winner – and thereby represent the country at this year's Eurovision Song Contest.
A pre-selection round, EMA Freš, held online brought Parvani Violet and Saška into tonight's final. The remaining 10 participants had all been pre-selected.
The songs
Simon Vadnjal – Nisi sam
The show must go on, and so it did. Simon performs a simple, ear pleasing, anthemic song. He's dressed in what's best described as a football jersey suit. Maybe he imagines himself to be the manager of a large football team, and indeed the song would not be out of place sung by forty thousand supporters. If this version with only one lead vocalist is enough remains to be seen.
Saška – Še kar lovim tvoj nasmeh
Balkan ballads are the reason I signed up to cover this show, and already at song number two EMA 2020 delivers on this promise. The song title translates to "I'm still chasing your smile", and smiling she does. And if she were signing the song to me she could have stopped chasing after the first seconds. I'm glad she didn't though.
Gaja Prestor – Verjamem vase
Third contestant of the evening, Gaja Prestor, adds some nice Balkan pop to the mix. Her song is about believing in herself, which she indeed appears to do. The song however fails to impress me, among everything else this evening has to offer.
Ana Soklič – Voda
Never did I expect to hear a rock/power ballad about water, but that's what this is. Without understanding Slovenian, it's hard to tell what exactly she's singing about but one thing seems very clear: she feels very passionate about water. And why wouldn't she, it's not only vital for our survival, we're almost entirely made of water.
After the performance, Ana and Klemen share a glass of, you guessed it, water.
Only one word seem to do justice to this song, her voice, the music and performance: amazing!
INMATE – The Salt
Cooking your potatoes in unsalted water is, for most purposes, not the best idea. That's why INMATE's song seems to complement the previous one so much. That is, until you hear this rock song. It goes pretty fast, but rather than cooking potatoes it seems to be about pain, and wounds, and adding salt to that only makes it worse.
This song is great though. As I've stated before, there can never be too much rock at Eurovision.
Manca Berlec – Večnost
Every single song this evening seems to have that distinct, Balkan sound to it. And for the avoidance of doubt; I love it. Add that Balkan ring to Leonora's Love is Forever from last year (Denmark) and you have a rather good impression of Večnost. Her chair isn't nearly as large though.
Tinkara Kovač – Forever
From eternity, to forever, this song has a more international pop ballad sound to it. The simple lyrics about the endless loving and needing of love are well delivered by Tinkara's strong voice. They may not be the most original lyrics ever heard, but let's face it, does that really matter?
Božidar Wolfand Wolf – Maybe Someday
This performance confuses me. I'm hearing a classic rock ballad, performed by a Slovenian singer, dressed in half a Scottish kilt, but if I should associate this song to any particular country Ireland comes to mind before anything else. He does wear regular pants underneath though, so that's good.
Parvani Violet – Cupid
After a short commercial break, we find ourselves in a night club. Parvani's Cupid is a jazz inspired song about how the universe is always involved when two people fall in love. This song is a clear example of why I am so sad that there is no live music played at the Eurovision Song Contest. With a big band consisting of saxophones, bass guitars, a piano and whatever else I missed it's a waste to know that if she should win all that great music will have to come from tape.
And a chance of winning she does have.
Klara Jazbec – Stop the World
While Klara Jazbec is indeed Slovenian, one could easily be fooled into believing otherwise while listening to Stop The World. Her pronunciation is flawless and could confuse anybody into believing English is her native language. But compliments about her language skills don't do this performance justice. Stop The World is a lovely pop ballad, that's delivered well.
I'm glad I'm not in the jury, they don't have an easy task tonight.
Imset – Femme Fatale
Rock meets dance, and not at all in a bad way. Let's just leave it at that 😉
Lina Kuduzović – Man Like U
The last contestant of the evening comes with a soft pop song that pretty much every national final to a Eurovision Song Contest needs to have. Her performance is perfect, but the song doesn't leave a lasting impression to me.
The Show
Tonight's entertainment from Slovenia opened with comedian, actor and so much more Klemen Slakonja performing Arcade. Towards the end of the song, the lamp hanging down over his piano fell off, collapsing both the piano and Klemen's chair and leaving him with what looks to be quite a deep scratch on his head. The broadcast was shortly paused while the host received the necessary care.
As a female host gathered her sences, Klemen returned to the stage welcomed by warm applause from the audience.
However, as the show went on, his injury changed in appearance and severity. Either this was all part of the act, or he has undergone a similar magical recovery as Locke experienced in Lost. And then got hurt again. Let's say it was an act.
The result
In such a short show, they still found time for two rounds of voting. First a jury cut down the 12 songs to two taking part in a super-final. In this second round, only the public voted.
Superfinal
Through to the superfinal are Ana Soklič and Lina Kuduzović.
While waiting for the audience at home to vote, and we're treated to Me & My Boy, a new song by last year's Slovenian participants Zala Kralj & Gašper Šantl, now performing under their band name Zalagasper. The sing fits the style of their 2019 song, Sebi, perfectly.
Final Result
Ana Soklič won the popular vote and will represent Slovenia at the 2020 Eurovision Song Contest in Rotterdam, The Netherlands.
Slovenia chasing first victory
25 appearances since their Eurovision debut in 1993. Since the introduction of semi-finals, the country reached the final six times, and failed 10 times. Best ever result is a 7th place achieved in both 1995 and 2001. Those are the bare facts about Slovenia who is yet to win the Eurovision Song Contest.
The past two years, acts Lea Sirk and Zala Kralj & Gašper Šantl both qualified for the final with songs in Slovenian, but it's yet to soon to conclude that Slovenia performs better singing in their own language.
In the video below, you can get to know last year's act, the lovely couple Zala and Gašper, a little bit better. They draw sentences, which they are to finish – and it does show some different sides to the young Slovenian couple that finished 15th in the final with the song Sebi.